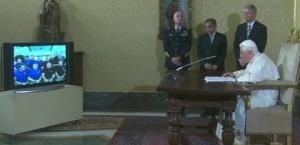 Article (transcript)
1800 words
Level: all audiences
A transcript of Pope Benedict XVI speaking to the crew of the International Space Station in 2011. This article has been selected by the Interdisciplinary Encyclopedia of Religion and Science (Inters.org), which is edited by the Advanced School for Interdisciplinary Research, operating at the Pontifical University of the Holy Cross, Rome, and directed by Giuseppe Tanzella-Nitti. Pope Benedict concludes:
I thank you warmly for this wonderful opportunity to meet and dialogue with you. You have helped me and many other people to reflect together on important issues that regard the future of humanity. I wish you the very best for your work and for the success of your great mission at the service of science, international collaboration, authentic progress, and for peace in the world. I will continue to follow you in my thoughts and prayers and I willingly impart my Apostolic Blessing.
Click here for this material from Inters.org.
Click here for this material from the Vatican web page.