A Catholic Priest reflecting on Christmas during the first week of Advent? "Scandal" cries the liturgical purist! Well, perhaps the purist has a point. Nevertheless, I had a night sky experience on Saturday evening that reminded me of an historic Christmas truce that I pray might happen again. In light of this, let's see what God placed in my heart this week!
These past few weeks have been stressful for me. No need to get into the details, but sometimes priesthood presents me with challenges I know are beyond my abilities. These moments are often a test: Am I willing to allow God to take the lead or will I make the mistake of thinking somehow I can fix the problems before me? As is often the case, there are areas of my ministry that I have been able to turn over to God, but others where that abandonment is a bit more challenging. Needless to say, if you wouldn't mind, say a prayer for your favorite hobby astronomer pastor and the situations I'm dealing with these days. Prayers are very much needed and deeply appreciated!
When stress hits, it's surprisingly easy to forget the things that keep us in balance. It dawned on me this past Saturday that I hadn't been out to image the night sky in some time. So, I grabbed my camera and went to one of my favorite darker sky areas. The sky is in transition right now, seeing the end of the Milky Way core season in the Northern Hemisphere and the hints of Orion the hunter are starting to greet the early evening sky. As I was taking some time to breathe deep and allow God to love deeper, the Pleiades, the Seven Sisters, were positioned beautifully over a local farm. At the risk of sounding like a hopeless romantic, I started to hum the hymn, "Silent Night" while gazing at the beauty of the night.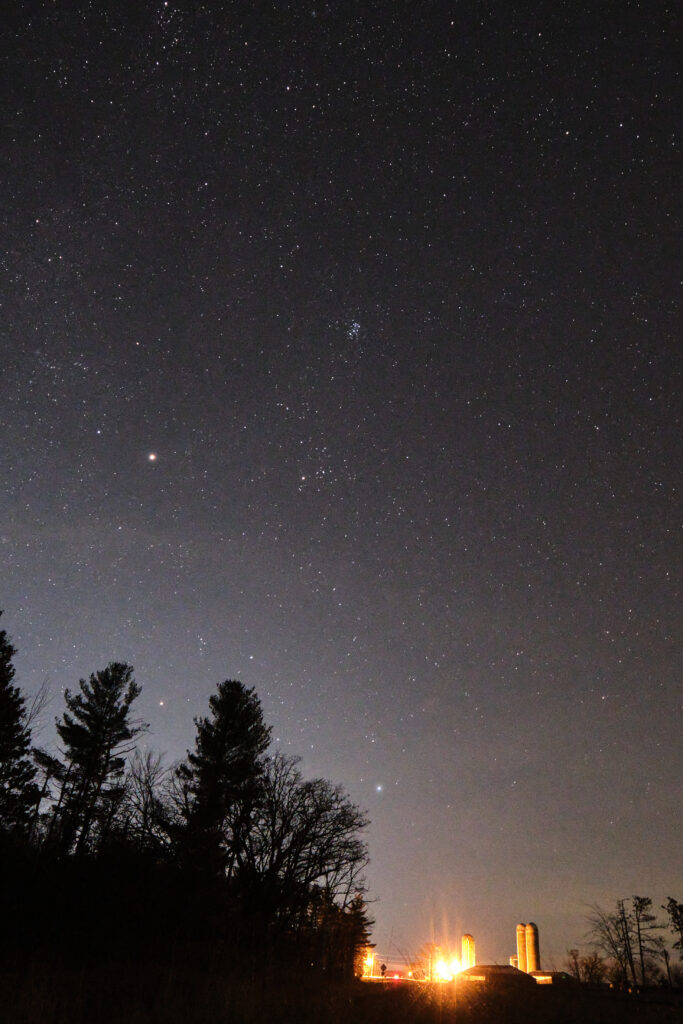 The visuals of the stars and the popular Christmas hymn began to calm my heart. As both a lover of the night sky and a trained musician, music and star gazing always bring peace to my heart. As I prayed, my thoughts shifted away from the difficulties I was facing and toward a famous story of a Christmas truce. I found this article from Time Magazine to refresh my memory of the details of the truce.
In short, during World War I in 1914, Pope Benedict XV called for a Christmas Day truce among the warring countries of which most had strong Christian roots. There are many stories based more in legend about what transpired that Christmas evening, but certain regions of war torn Europe voluntarily chose a cease fire – Some observed the truce all the way to New Year's Day.
One of the journals explained the truce began at night with the singing of Christmas Carols. Though some popular movies romanticize this exchange, it seems the hymns were a type of litmus test to see if opposing forces would stand down. Once it was clear that the truce was taken seriously, the stunning dream of a cease fire became real as opposing forces embracing each other as fellow Christians, gifting each other with cigarettes.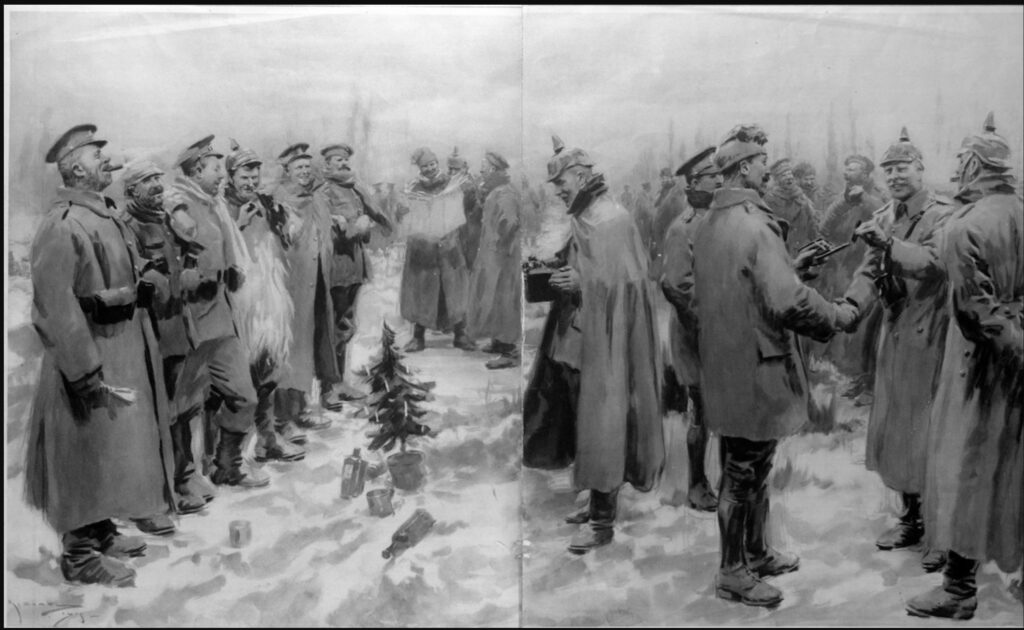 Sadly, we know the rest of the story. The Christmas truce ended, the war resumed, and what commenced was one of the bloodiest and darkest chapters in human history. A good friend of mine who is a professional historian often tells me that there is an argument to be made that if World War I doesn't happen, neither does World War II. It is fascinating and frustrating to contemplate what our world would be like if the first two World Wars had never happened.
The Time Magazine piece ends with a heartbreaking and potentially prophetic reflection. Quoting Murdoch M. Wood, a World War I veteran speaking about "The Christmas Truce," the Times shared the following:
I then came to the conclusion that I have held very firmly ever since, that if we had been left to ourselves there would never have been another shot fired.

Silent Night: The Story of the World War I Christmas Truce of 1914, Naina Bajekal, Time Magazine. https://time.com/3643889/christmas-truce-1914/
As I gazed at the Pleiades over a western Wisconsin farm, I prayed for those involved in the war in Ukraine. I prayed that Pope Francis and the Christian leaders of both Russia and Ukraine would call for a similar Christmas truce. And I prayed that unlike World War I, the collective desire of both sides of this conflict to end this war peacefully will be our world's Christmas gift, turning Murdoch Wood's reflection on the Christmas truce into a prophetic trope for our current situation. What a gift that would be – The gift of Peace – The gift that most definitely keeps on giving.
When I prayed under the stars, my life stress suddenly seems a little less important. Still, I know it will stay with me in the days and weeks ahead. However, the "Silent Night" I experienced under the night sky gave me time to embrace a new perspective on what I was going through. It gave me a sense of hope and peace that perhaps a spiritual truce can be reached in the situations I am called to confront in the weeks ahead.
Have you had a "Silent Night" as of late? Have you taken time just to be under the stars and ask for God to be with you in that silence? I encourage you, if weather permits, to get out and enjoy the stars this week. No, it isn't Christmas yet, but perhaps some "Silent Nights" under the canopy of God's canvas will provide us with a Christmas gift we all long for and desperately need: The gift of Peace in this time of war and global struggle.