This was the common reaction of friends and family when I told them about my new role as Executive Director of Development for the Vatican Observatory Foundation. Indeed, one friend, a lifelong Catholic, was so incredulous that he asked me to send a picture of myself at the Vatican Advanced Technology Telescope (VATT) when I finally got to see it, as proof.
I had that chance this past weekend when Fr. Paul Gabor, SJ, asked me if I would accompany him on a three-night observing run. I jumped at the opportunity—after all, the Foundation is responsible for the maintenance and modernization of the telescope.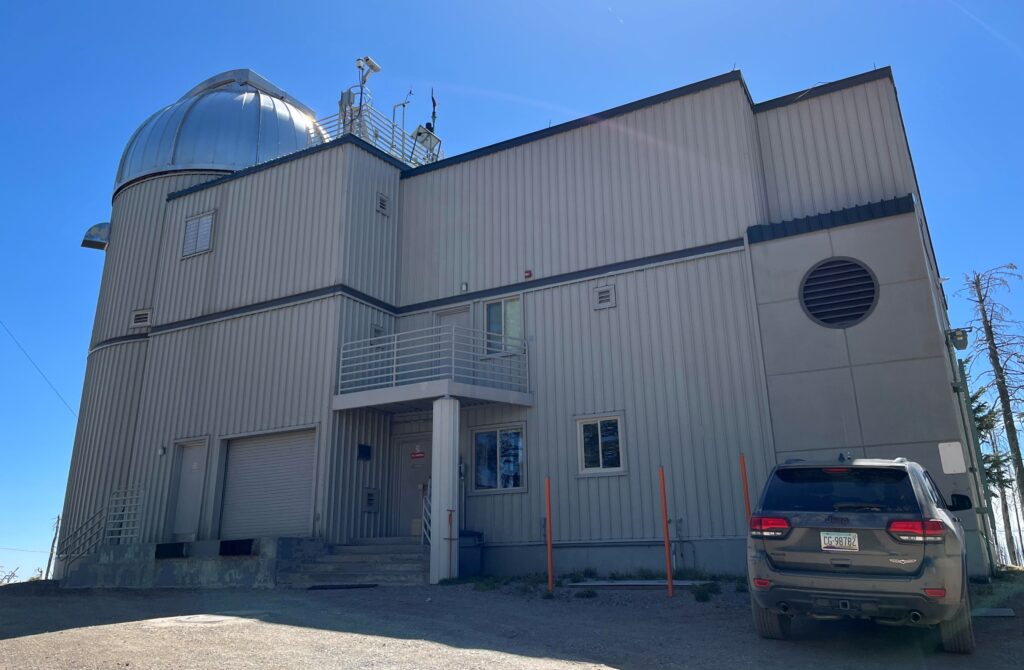 The VATT is on Mount Graham together with the Large Binocular Telescope (LBT) and the Submillimeter Telescope (SMT) a radio telescope. Access to the site is not easy, and not for the faint of heart. All visitors must be cleared by the University of Arizona and check in at the Base Camp, eight miles south of Safford, AZ. From there, you'll need to navigate the narrow, winding, and partially unpaved road up to the observatory, which sits at 10,469 feet above sea level. Needless to say, I was very glad we had four-wheel drive, and a very experienced driver in Fr. Gabor.
After a tour of the nearby LBT (which, with two 8.4 meter mirrors, lives up to its name), we headed over to the VATT. It's only a short walk from the LBT, it was hard not to notice the altitude, and I arrived out of breath.
The VATT consists of both the telescope unit itself, the Alice P. Lennon Telescope, and the control room, workshop and living quarters, the Thomas J. Bannan Astrophysics Facility. The living quarters—four bedrooms, two bathrooms, a living room and galley kitchen—are simple but quite comfortable. Each window has a plastic shutter, not only to give sleeping astronomers darkness during daylight, but to avoid any light pollution from the rooms at night.
After dinner, it was time to begin what would turn out to be our only night of observing, due to high winds on the other two nights. Fr. Gabor fired up the telescope's 30-year-old server, and a long sequence of ASCII lines flashed on the monitor. Then, he opened the dome and we began the evening's assignment: observing a star about 43 light-years away for Project EDEN. EDEN's goal is to search for possibly habitable planets, and tonight, we were looking for a possible astronomical transit across this distant star.
To accomplish this, we used the telescope's 4k CCD camera, first finding the right star field, finding a guide star to calibrate the telescope's tracking, and then ensuring that the camera was properly aimed and focused throughout the night.
At this point, I should note that I am not an astronomer—far from it. I'd majored in theology at Fordham, and somewhat dreaded the physics course that I took to fulfill the requirements of the core curriculum (I won't mention my final grade). But I was incredibly eager to learn. So as Fr. Gabor explained what we were doing, I made mental notes to double-check terms I'd heard in passing before: azimuth, seeing, exoplanet among others.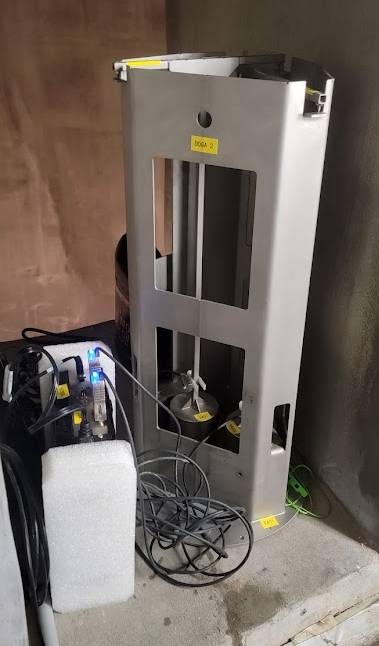 Fortunately, I'm a somewhat quick study, and was able to take over the observation around 1:30 AM to give Fr. Gabor some well-deserved rest. Every ten minutes or so, I would analyze the latest image from the telescope, listening for the camera shutter's click after each 45-second exposure. I had to ensure that the focus was as good as possible, while also making sure that the image wasn't overexposed—if it was, crucial data could be lost. Fr. Gabor relieved me around 3:30 AM, and I was asleep by around 3:35.
The next day, I helped Fr. Gabor install an inclinometer in the basement. Using two pendulums mounted on north-south and east-west axes, it measures vertical ground movement. This project is done in partnership with the Technical University of Košice, Slovakia.
I took a walk around the mountaintop that afternoon, and noticed strong wind gusts. In fact, with gusts over 30 knots, it was unsafe to open the dome that evening, so I resumed a somewhat normal sleeping schedule.
On Sunday, following the smallest Mass I've ever attended, and the only one at which I've served as both lector and altar boy, we toured the Submilimeter Telescope with its operator, Christian Holmstedt, as our guide. Because it observes radio waves rather than visible light, it often opens during the day. Its presence is also why cell phones must be kept in airplane mode throughout the site.
We also paid a visit to the mountaintop police station, staffed by Sergeant Wade Boltinghouse. Because of its isolation, safety is paramount on Mt. Graham. He pointed out the vast damage caused by a wildfire in 2017, as well as the sprinkler system that helped spare the observatory.
Monday, we headed down the mountain and stopped by the Eastern Arizona College Discovery Park Campus for a tour by its director, Paul Anger. In addition to its excellent museum facilities, the Campus is responsible for coordinating public tours of the telescopes. Following the pandemic, they are looking to resume tours later this year.
It was an excellent weekend, and I'm incredibly grateful to Fr. Gabor for having me along. It was a chance for me to learn about the unique characteristics and qualities of the VATT—and our hopes for making much-needed upgrades to the Alice P. Lennon Telescope, which celebrates its 30th birthday next year. In order to maximize viewing time, we hope to robotize the telescope, allowing for its full operation from anywhere in the world, and making it an even more useful tool for the astronomy community. In addition, its camera is nearing the end of its useful life, and will soon need replacing. We'll be sharing more about the need for these upgrades—and how you can help support them—in the near future.
In the meantime, I'll leave you with the closing lines of the VATT's dedication plaque, from September 1993: "May whoever searches here night and day the far reaches of space use it joyfully with the help of God."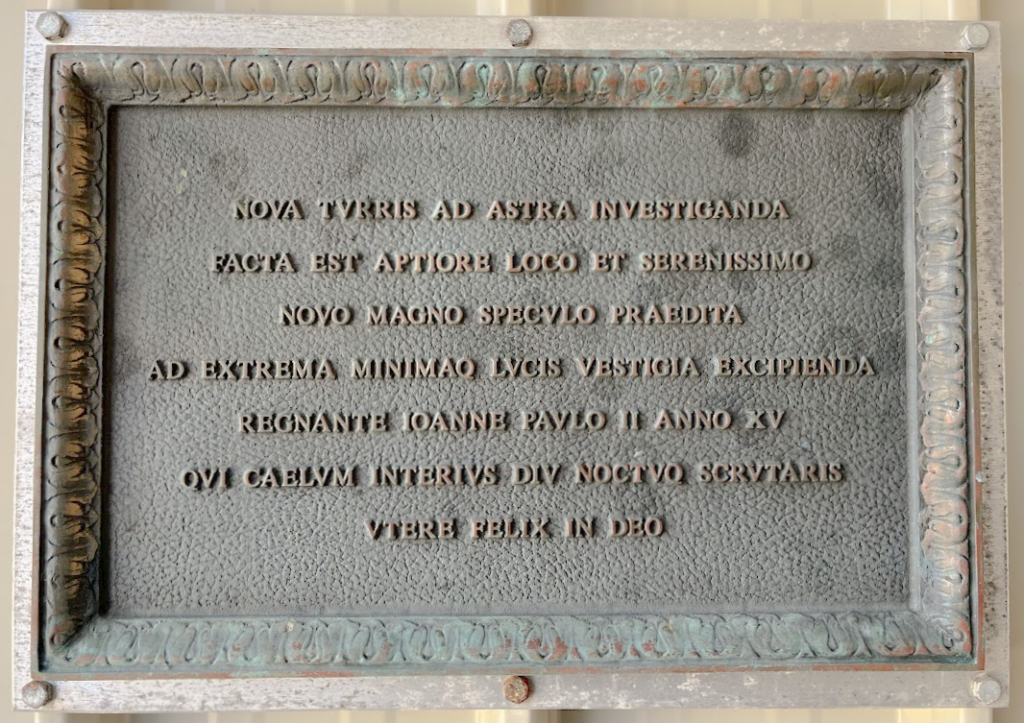 This new tower for studying the stars had been erected on this peaceful site so fit for such studies, and it has been equipped with a new large mirror for detecting the faintest glimmers of light from distant objects, during the XV year of the reign of John Paul II. May whoever searches here night and day the far reaches of space use it joyfully with the help of God.

VATT Dedication Plaque Translation
All images are credited to Christopher Kennedy – except for the star field, which is credited to Project Eden.