My painting is in copper leaf, copper wire, Polyfilla and acrylics on canvas. This list is an odd mix of materials compiled to achieve something tangible from an image that inspired me.
Inspiration can be a powerful driver. It may lead you on unplanned journeys mixing several interests bound by the same materials. Some time ago, I saw an image of copper taken by a friend of mine. The image is of a 40 mm piece of copper taken using a microscope. It has a massive amount of detail with great textures, hence my fascination.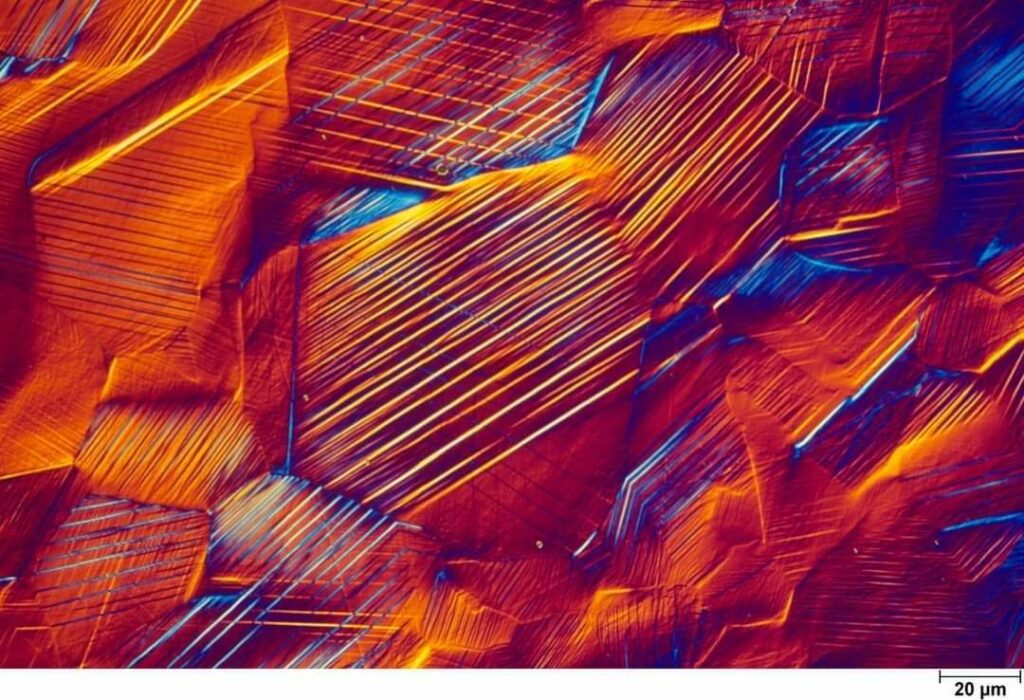 The world of imaging metals in a metallurgical microscope is way out of my depth. Nevertheless, the origin of my inspiration was Kevin Smiths' image. He used something called Differential Interference Contrast by Normarski. Click the link for insight.
Ingredients
For the purpose of capturing some of the shapes and textures in the image, I used Polyfilla. Yes it is the same material for filling holes in paintwork. It made sense because it is easy to spread and to layer. The filler was easy to indent via a palate knife before and after drying. The entire underbelly of the painting is in Polyfilla.
I etched the lines in the large copper shape post drying and placed copper wire into those tracks. The copper leaf was applied to some prominent forms in the process. A salute to Kevin's image but not a copy.
A Copper Journey
As I was handling the copper leaf, my thoughts linked to the copper element within us all. Created as some stars spectacularly end their lives. My thoughts also wandered towards the James Webb Space Telescope. Its wonderful mirrors, its visual journey to expand our knowledge of the universe. Visions of using gold leaf to show off the JWST were popping in my head. Inspiration can meander but must be enacted to fulfil its purpose no matter where that brings you.
The finished painting hangs in my living room. When sunshine hits it, the copper shines with a smile. Tiny pieces that escaped during the action pick up the beautiful light.
Before I had finished the painting above, I decided to use some metal leaf to create three mini paintings for a fundraising event here in Ireland. The paintings celebrate the data due to be delivered from this innovative telescope. The charity supports terminally ill children. They will go on sale soon, so I will write about them afterwards as all the artists contributing are incognito.
More information
More information on Differential interference contrast (DIC) microscopy
I often use metal or metal particles in paintings, here is one inspired by Cassini