We have a guest blogger today at Sacred Space Astronomy: Geologist Dr. Kate Bulinski of Bellarmine University here in my hometown of Louisville, Kentucky (itself home to a unique geological feature—the Falls of the Ohio and its fossil beds, seen above in a photo by William Alden). As discussed in last Saturday's post, there will be a Gold Mass—for those in science—in the Archdiocese of Louisville this coming week, with a reception after the mass featuring a special presentation by Dr. Bulinski on "Faith and Science: Compatible and Complementary."  Dr. Bulinski has been a guest here before and I am pleased that she is writing for Sacred Space Astronomy once again.
---
By Dr. Kate Bulinski (October 18, 2021):
Every semester I teach undergraduate geology courses at a medium-sized liberal arts university. My students bring highly variable levels of scientific knowledge with them to class. My challenge is to teach students in a way that builds knowledge and understanding for all.
As far as it goes, geology is an excellent point of entry for engaging with all students (and really all people) about science. It is by nature earthy and practical. We encounter geology all around us: whenever we try to grow something in the soil, or have to contend with natural hazards like floods or earthquakes, or use fossil fuels to power our homes and vehicles. Geology infuses everything if you really think about it.
Of all the classes I teach, I would argue that the most important is my "Earth Science for Education Majors" course. All elementary education majors at my university take this class as a sophomore, preparing them for eventually teaching scientific topics in their own classrooms. It is in this course that I find the most purpose as a professor but also the greatest challenge as I take on the shared responsibility of shaping the educators of the future.
During the beginning of the semester, the students study classic, uncontroversial earth science topics like plate tectonics and the rock cycle. When we get deeper into the course, they encounter more unfamiliar or complex topics like geologic time, the fossil record, evolution, and climate change. It is when they are exploring these topics that I notice that not every student in my classroom received the same quality of science instruction from their K-12 academics.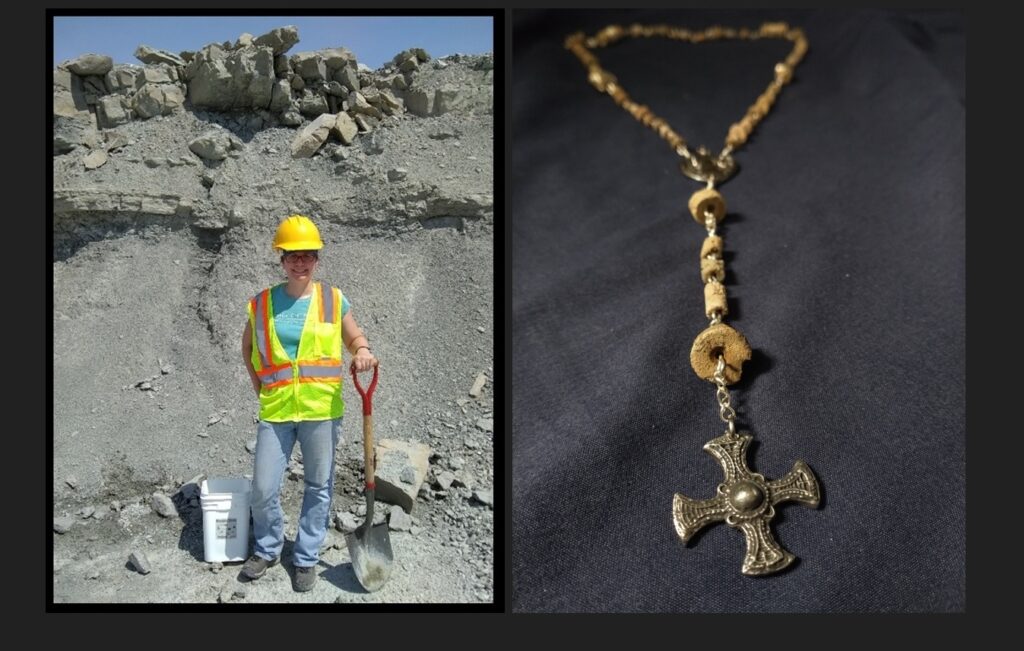 In fact, I often have to spend a significant amount of class time correcting misconceptions about many areas of science. Some of these misconceptions stem from the influence of cultural forces (e.g., the politization of various scientific ideas). Others result from the lack of attention or depth spent on various scientific concepts in their prior educational experiences. This is to be expected in the United States, where education is decentralized and varies greatly from school to school because of variability in funding, teacher qualifications, teaching standards, student demographics and more. When these young people arrive in my college classroom, my job is to level the playing field and meet students where they are, doing my best to deliver evidence-based science content that these future teachers can someday take to their own classrooms.
What is somewhat unique about my experience though, is that I have the great privilege to teach in a Catholic university where I am able to more readily discuss the intersection points and complementarity of faith and science, a topic that I think is essential for future teachers to engage with as they learn how to navigate this topic in their own classrooms. A number of my education students come to college after attending one of the many Catholic elementary and/or high schools in this region of the country and will go on to teach in one of these institutions.
I would have assumed the students who received many years of Catholic education would recognize the compatibility of faith and science. This compatibility was famously put into words by St. John Paul II in his encyclical Fides et Ratio (Faith and Reason):
Faith and reason are like two wings on which the human spirit rises to the contemplation of truth.
Despite the efforts of the Church to highlight the shared role of faith and science in the pursuit of Truth, what I've actually discovered, however, is that there is a lot of confusion even among these students regarding what the Catholic Church teaches with respect to evolution, the age of the earth, the origins of the universe and more. This confusion is exemplified from the answer to a reflection question a student submitted after our lecture and lab activity on evolution last year:
I really enjoy learning about evolution. I grew up Catholic and when I was younger I wasn't allowed to learn about it because I went to Catholic school. However, my father made sure that I knew what evolution was and that it was real. I was very excited to get the opportunity to learn more about this subject so that I can teach my students about it when I become a teacher. I want my students to know that they can be both Catholic and believe in science, you don't have to pick.
Reading statements like this one made me wonder what kind of messaging my Catholic-school-educated students were receiving about faith and science in their schooling. Are the teachers fully informed about the Catholic views of the compatibility of faith and science? Or is the confusion among students originating more from absorbing messaging from secular culture that portrays a blanket incompatibility of faith and science? Or some combination of factors?
These kinds of observations and questions are driving a new effort between myself and Chris Graney. We intend in the coming year to develop a survey tool to discover what teachers in the Catholic schools in Kentucky know about the compatibility of faith and science and how this might translate to the classroom. Our hope with this project is to determine the best ways to support teachers in Kentucky Catholic Schools in promoting both high-quality science education and accurate Church teaching about the compatibility of faith and science.
I am heartily encouraged that the Archdiocese of Louisville is hosting our first ever Gold Mass on November 3rd, 2021, intended to celebrate the work that Catholic Scientists do every day. Following the mass, I will be giving a lecture focusing on the compatibility and complementarity of faith and science. We hope many science teachers in our archdiocesan schools will be in attendance as a great starting point for what we hope will lead to better alignment and a strengthening of church teaching and scientific teaching in our schools.