Our very own Chris Graney has a new book! It's called Mathematical Disquisitions: The Booklet of Theses Immortalized by Galileo published by the University of Notre Dame Press.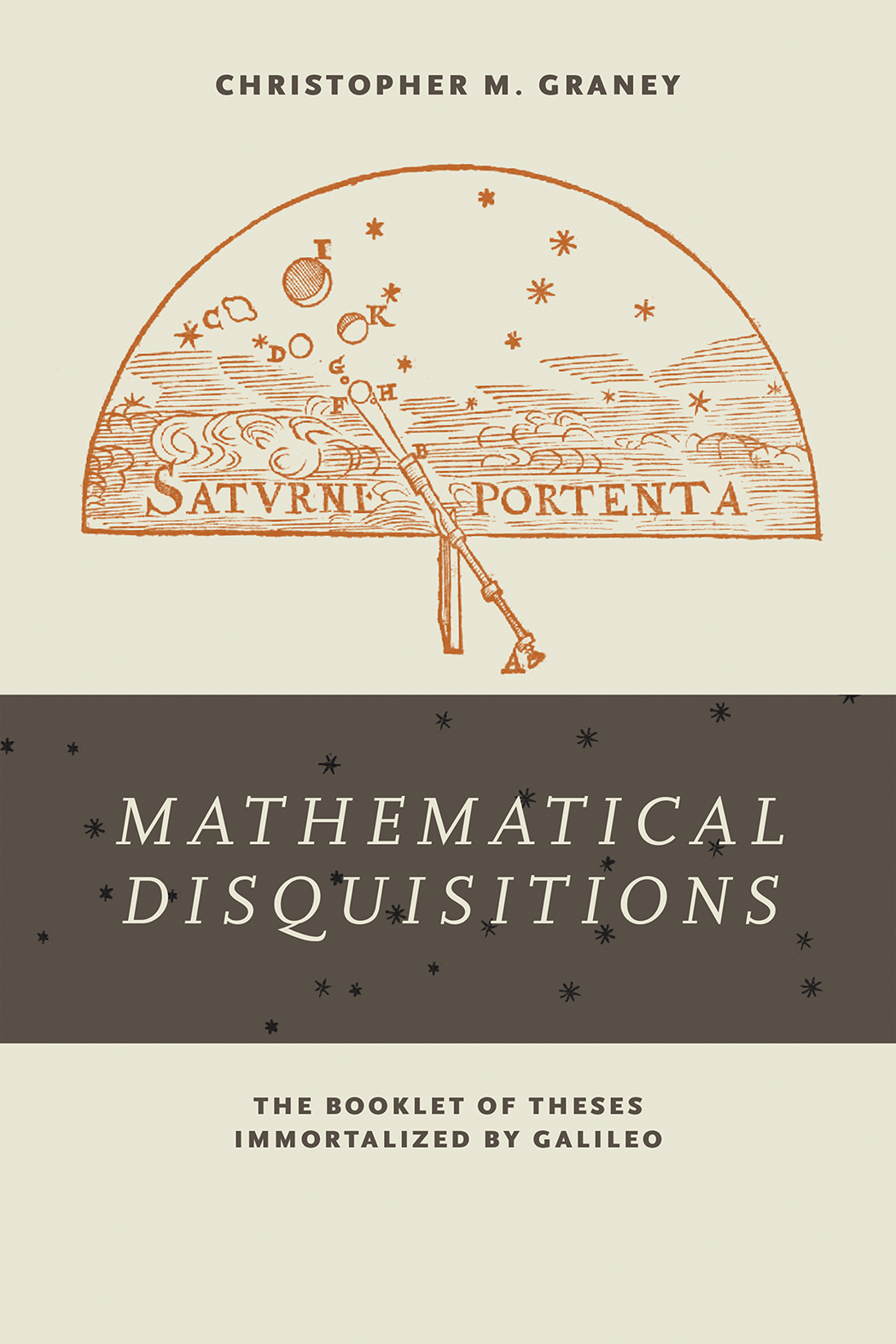 Plenty of people have translated the works of Galileo, and many more have read them – in Italy, they're considered an essential part of Italian literature and kids read them when they are in high school. But how many people have actually read the works of Galileo's rivals, especially those whom he specifically calls out in his writings? Chris Graney has… and here he translates and comments on one of the most interesting of these, by Locker.
To quote the blurb on the Notre Dame Press site:
Mathematical Disquisitions: The Booklet of Theses Immortalized by Galileo offers a new English translation of the 1614 Disquisitiones Mathematicae, which Johann Georg Locher wrote under the guidance of the German Jesuit astronomer Christoph Scheiner. The booklet, an anti-Copernican astronomical work, is of interest in large part because Galileo Galilei, who came into conflict with Scheiner over the discovery of sunspots, devoted numerous pages within his famous 1632 Dialogue Concerning the Two Chief World Systems—Ptolemaic and Copernicanto ridiculing Disquisitiones. The brief text (the original was approximately one hundred pages) is heavily illustrated with dozens of original figures, making it an accessible example of "geocentric astronomy in the wake of the telescope."
…Christopher Graney's translation focuses on the mathematical and astronomical core of Locher's work and is suitable for undergraduate students in courses on the history of science, philosophy of science, astronomy, and physics.
"Christopher Graney has translated foreign terms and concepts in efficient, modern ways, often trimming from them the complicated metaphysical and rhetorical context. Many of Graney's notes explain mathematical concepts and astronomical phenomena in reference to what astronomers understand today, which will make the text more digestible to an audience familiar with and interested in modern astronomy. The text offers a nice counterbalance to the standard canon of Galileo readings students encounter." — Darin Hayton, Haverford College
"This well annotated and widely accessible translation of Johann Georg Locher's 1614 Mathematical Disquisitions makes a forgotten text at the heart of the Galileo Affair newly available to scholars and students alike. By bringing the subtlety and complexity of Locher's anti-Coperincan positions into view again, Christopher Graney adds enormously to our understanding of the historical complexities and contingencies at the root of this foundational debate in the history of science." — J. B. Shank, University of Minnesota