This post is a sort-of re-run, in that it borrows a good bit
from a lengthier post from November 2019, with some updates.
---
Happy New Year!  The year 2021, with all its UFO hoopla, is over.  May there be none this year!
In 2021, "UFOs" and "extraterrestrials" were all the rage in the media, before the release of the "Preliminary Assessment: Unidentified Aerial Phenomena [UAP]" report from the Office of the Director of National Intelligence on June 25.  Even some Catholic media asked what it would mean for religion were we to find out that "we are not alone" (not a new question, certainly).  When the report actually came out, however, all that went away. 
That should be no surprise, if we think critically and scientifically about the UAP question.
Uncritical reports in media, such as the New York Times writing about UAPs and Navy pilots, described UAPs violating basic laws of physics.  Supposedly they lacked engines and exhaust, creating no turbulence in the air—yet could stop suddenly, turn instantly, and easily outrun a Navy F/A-18 jet.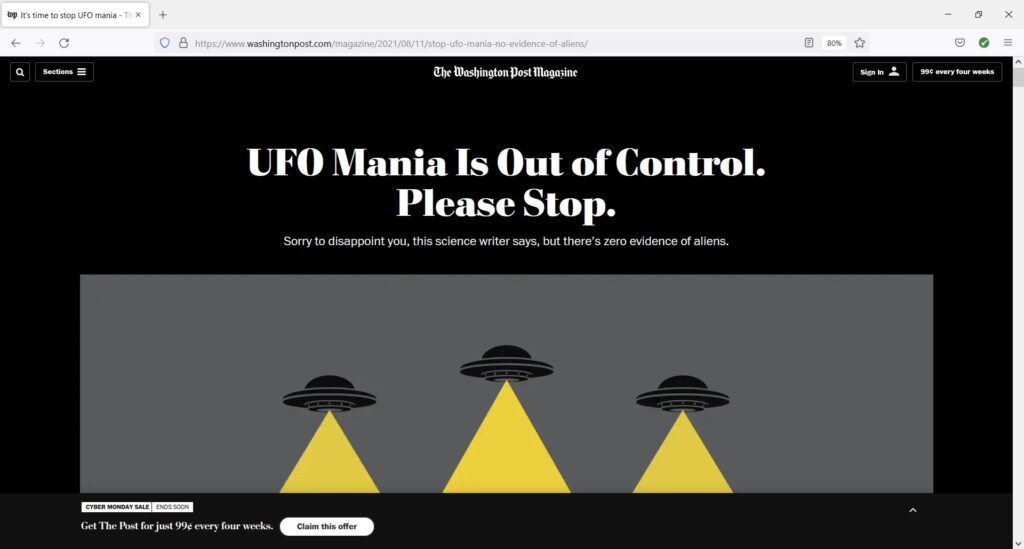 "Advanced technology" is a favorite explanation for this sort of thing, but technology must obey the laws of physics. Then what about some super-advanced technology involving principles of physics we have not yet discovered? After all, we cannot prove that there are no undiscovered physics principles, and related super-advanced technologies, out there.
But in that case, we might as well suppose that the UAPs are magical—the work of mermaids, maybe, since the Navy has featured prominently in all this.  After all, we cannot prove that there is no magic.  That is a problem with leaving the realm of what is scientifically knowable: where do you stop?
Indeed, it would make far more sense scientifically to suppose that the UAPs were the magical work of mermaids, rather than of ETs. Outer space is huge. It's empty. It's a nasty place—for example, there is no spot in the solar system, outside of Earth, where you could survive for ten minutes as you are. By contrast, Earth is small, cozy, a great place to live, and full of life.
For ETs to be behind the UAPs requires that there be some livable world out there that both is not impossibly far away (but everything outside our solar is impossibly far away) and has a civilization of ETs on it advanced enough for interstellar travel. Then those advanced ETs have to somehow discover Earth within the vastness of space, and make the long journey here, just so they can magically fly around pestering Navy pilots.
By contrast, the mermaid hypothesis merely requires that there be an undiscovered advanced civilization down in the sea. We know the sea certainly sustains life. It is a relatively short journey from its depths to its surface.
Mermaids even explain why the Navy in particular is being pestered: the mermaids are sick of the sonar, of the ships, and of all our trash in their oceans! They are mad as heck. They are not going to take it anymore! They are displaying some Mer-power, to show us they mean business.
Of course, this is absurd. But the ETs stuff in the media was more absurd. What is not absurd? Exactly what was in the June 25 report. It makes no mention of extraterrestrials. It attributes the seemingly magical behavior of the UAPs to "sensor errors, spoofing, or observer misperception." It states that there is no data related to UAPs "indicative of a major technological advancement."
We should think critically and scientifically about UAPs. Maybe they are just plastic bags floating in the wind. Maybe they are the result of an adversary having learned how to spoof the sophisticated systems in US aircraft, and thus a threat. Either way, are we going to attribute the UAPs to mermaids, and ask what they mean for religion? If not, then we should not be attributing the UAPs to "extraterrestrials," and asking the same thing. No one asks the former, so why do they ask the latter?
---
*The following, from one of the article commenters, illustrates just how unpersuaded some of its readers could be. Note that the behavior described can only be described as magical:
This is a silly wordy bit of propaganda that carefully avoids talking about observed and recorded facts.  Objects were seen and recorded by camera, radar and other telemetry that could move from zero to 24,000 MPH fairly much instantaneously.  The objects were recorded changing direction also instantaneously at high velocity without moving through an arch but more like a ball thrown against a wall.  (Unlike a ball there was no observed change of velocity in the turns.)  Even though any known propulsion would require vast heat energy to perform the maneuvers seen and recorded (and made public), the aerial objects not only showed no hot exhaust but were recorded at near absolute zero temperature.  They could also be seen (and recorded) to transition from air to undersea (where a large vessel could be seen moving at high velocity) with neither loss of speed nor visible impact when transition from air to water (splash).