This summer I heard something interesting while listening to the news on NPR:
"Science is not democratic."
This statement was made in a story by Christopher Livesay about Italy passing a law to make childhood vaccinations mandatory for school attendance.  According to the story, the measles vaccination rate in Italy declined from just above 90 percent in 2010 to 85.3 percent in 2015.  There has recently been a ten-fold jump in measles cases.  What is behind this?  Livesay's story points to the country's major populist party, the "5-Star Movement", whose leader has apparently made anti-vaccine statements.  The story continues:
Italy's health minister, Beatrice Lorenzin, has accused [the 5-Star Movement] of fomenting "grave and dangerous anti-scientific disinformation… that in recent years has driven people not to get vaccinated."
"I think we have made a lot of mistakes," concedes Elena Fattori, a senator with the 5-Star Movement.  "At the beginning, we thought we should give voice to everybody.  But now I'm convinced that sometimes some things are so scientific, that you cannot give voice to everybody.  Science is not democratic."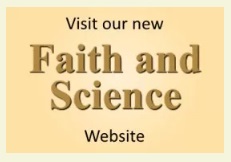 This reminded me of something from the Vatican Observatory's "Faith and Science" resource that I had come across: a video and audio of a 2009 talk featuring three interesting people (click here for the video and audio from "Faith and Science").  These were:
Pete Worden (Brig. Gen., USAF, Ret.), Director of NASA's Ames Research Center
Lynn Rothschild, an evolutionary biologist-astrobiologist at NASA's Ames Research Center, and a consulting professor at Stanford and Brown Universities
George Coyne, S. J., emeritus Director of the Vatican Observatory.
The talk had the title "Dance of the Fertile Universe", but the part that relates to the NPR Italy story came in the questions session that followed the talk itself.  A questioner asked Dr. Rothschild and Fr. Coyne about skepticism and dissent in science.  Fr. Coyne noted (at about the 1:02:40 mark in the video version, at about 60:05 in the audio-only version) how there is a certain faith or trust or acceptance involved in science.  He noted that he himself had never measured the age of the universe, the velocity of light, or the mass of a proton.  He then continued,
When I do my science, I accept what is in the books about those [measurements]… you can't question everything, or you'll never do anything.  You have to accept what has been done.  The other issue, however, is a very interesting one, and always when I start saying to my class: "you know, most scientists would agree that—", I look at myself and I say, "the truth is not democratic!  The truth is true or not regardless of how many scientists think it is true".  So there is that element of being skeptical.
In a modern pluralistic society, often there are not many things people are seen to agree on.  One of those things might be economic development (jobs, money, etc.); everyone wants to get ahead.  Another thing might be democracy (the vote, rule of law, etc.); everyone wants a voice.
But there need not be truth in these things.  It is easy to imagine a situation where a substantial majority of people view their economic or other interests to be best served by taking little interest in truth, and turning that view into policy through their representative, democratic government.  Don't think here of the "big stuff" (like certain social or environmental issues)—simply imagine the people of a small town who democratically vote to spend their limited funds on a new gym for the high school, when the engineer is warning about the school's foundation needing major work.
Or, consider actual results of the democratic process.  In the late 19th century a bill made it through several steps of the legislative process in Indiana, a bill that recognized various mathematical impossibilities, and that essentially recognized the value of Pi to be 3.2.  More recently there was a dust-up in Wisconsin when the state's budget office suggested changes to the mission statement of the Wisconsin state college system, dropping language about "the search for truth" being basic to every purpose of the system, and adding language about "meet[ing] the state's workforce needs".  (One of my favorite things to grouse about, including on this blog, is how it is socially acceptable for even educated people to proclaim they do not like, cannot understand, and have no knowledge of mathematics, and I suspect this attitude stems in part from the non-democratic, truth-oriented nature of the subject.)
It is easy to scoff at that Indiana legislature's approach to mathematics, or at our imagined townspeople, but in a modern pluralistic society is it really surprising that someone in Wisconsin's government might think that a stated priority of the state college system should be workforce development?—something that one might reasonably expect could lead directly to good-paying jobs, a thriving economy, and growing tax revenue for Wisconsin—rather than a search for truth?  And it may well be that, were the matter put to a democratic vote, people might vote for workforce development over the search for truth.  Some people may not even believe that truth is possible, or may have a conspiratorial view of truth (it might be "out there", as was said in the "X Files", but powerful forces hide it and control it, so better to stick with jobs).  Science may not be democratic, but public institutions of higher education in a democracy ultimately are.  I am a professor at a state college, and I remind my colleagues that our institution is a creature of the state: if (using a little hyperbole here) a sufficient number of people in Kentucky ever come to strongly believe that Kentucky would experience phenomenal economic development should professors at state colleges dress in pink suits and teach that the Earth is flat, then we would have professors dressed in pink, teaching that the Earth is flat.
Of course at one time truth was on a pedestal, even for democracy-driven public institutions.  After all, Wisconsin did write the search for truth into that mission statement, and it remains there: "Basic to every purpose of the [Wisconsin] system is the search for truth".  And here in Kentucky in the late 19th century, the opening of our second state college (and our second land-grant college)—the State Normal School for Colored Persons, now Kentucky State University—was lauded with a poem that emphasized the idea of a truth that students would study:
Where'er we look, where'er we turn we find
New evidence of Thy creative mind;
Throughout creation, whereso'ever we scan,
Proofs of Thy goodness both to beast and man,
All testify of Thee, our spirits yearn
To know Thee more; and in Thy works discern
Thy truths—from Thee this lesson gain,
How we may beings noblest heights attain.
(This poem, and the early years of Kentucky State University, will be the subject of a future post.)
Of course, not-democratic Science does not care whether states are lauding truth or are trying to legislate it, or whether people like mathematics or not.  It does not care that the town democratically arrived at the decision to spend money on something that will yield a noticeable upgrade for the school (i.e. the gym) rather than on an expensive fix for a problem the average person cannot see anyway (i.e. the foundation).  The truth is true regardless.  If it is not recognized and valued, then the school building might just collapse in a storm, or a bunch of children might get the measles.  Even a pluralistic modern society needs to figure out how to value truth, and we scientists ought to consider this if we want society to value science.