Venus and Spica continue their weeks-long conjunction in the eastern predawn sky.
Orion and Canus Major are in the southwestern predawn sky all week. A few months ago, I remember writing about Orion just becoming visible in the eastern predawn sky; watching constellations creep across the southern sky over the course of a season is pretty interesting. I'm certainly learning a lot about the sky from writing these posts…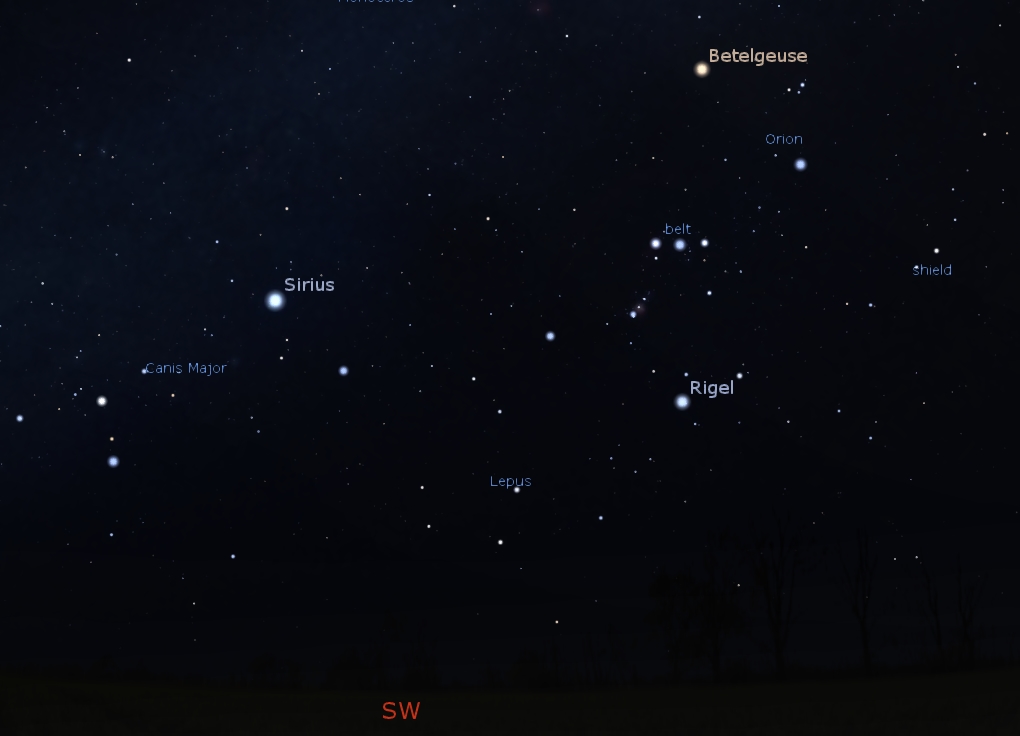 Saturn becomes the "evening star" in the southwestern sky at dusk; if you're lucky, and have a clear horizon, you might catch a glimpse of Mercury very low in the sky around 5:30 PM ET on Nov. 20th.
Mars and Neptune will be high in southern sky after sunset all week.
Here's a close-up of where Neptune is near the red giant star Lambda Aquarii (λ-Aqr , 73 Aqr):
Uranus is above the Moon! Yea, I said it! Actually, when generating images for this post, this image made me laugh pretty hard… Uranus will appear above the waxing gibbous Moon in the eastern sky after sunset on Nov. 20th.
The full Moon appears very near the star Aldebaran after sunset on Nov. 23rd.
Observing Target: NASA TV – Mars InSight Landing
Mars InSight is the first robotic mission to study the "inner space" of Mars: its crust, mantle, and core. InSight will land on Mars on Monday Nov. 26th at 2:55 PM ET; NASA is using the media to highlight the event, with a press kit, landing events, and live broadcasts on NASA TV and YouTube.
The public can experience what it's like to open InSight's solar panels and place instruments on the Martian surface after landing in a special web interactive available at https://eyes.nasa.gov/insight/
The Moon
The Moon is a waxing gibbous, heading towards full on the 23rd, where it will be visible all night long. After the 23rd, the Moon will be a waning gibbous.
The Sun
What's left of sunspot AR2727 is decaying and rotating out of view:
Coronal holes remains open at both poles; coronal activity associated with AR2727 can be seen on the right of the animation below. Some coronal loop activity can be seen rotating into view on the left of the animation below. SpaceWeather.com says "Today, a minor stream of solar wind is brushing against Earth's magnetic field, causing geomagnetic unrest and intermittent auroras around the Arctic Circle. The action of this solar wind stream should continue for another ~24 hours."
Prominences appear to be short-lived for the last couple days… not that I've been able to see any – living here in Mordor Michigan, the clouds have broken only for a few moments in the last several days.
Update: Early this morning, I brushed snow off the car before my wife left for school; as I was pouring the last cup of coffee from the pot, I noticed the sky to the east is a brilliant blue! NO CLOUDS! I rushed to the south window and looked out… mmrph… clouds… But, hey – first blue I can remember in days!
The solar wind speed is 415.2 km/sec, with a density of 9.0 protons/cm3.
Asteroids
Upcoming Earth-asteroid encounters: 
Woo-HA! Look at 2018 WG, passing within 0.1 Lunar Diameters on Nov. 16th!
Notes: LD means "Lunar Distance." 1 LD = 384,401 km, the distance between Earth and the Moon. Table from SpaceWeather.com
Near-Earth objects (NEOs) discovered this month: 171, this year: 1793, all time: 19191.
Potentially hazardous asteroids: 1936 (as of Nov. 20, 2018)
Minor Planets discovered: 789,069 (as of Oct. 30, 2018)
Fireballs
On Nov. 19, 2018, the NASA All Sky Fireball Network reported 96 fireballs – WOW!
(48 Leonids, 42 sporadics, 5 Northern Taurids, 1 November omega Orionid)
The Solar System
This is the position of the planets and a couple spacecraft in the solar system; The Parker Solar Probe has almost recrossed the orbit of Mercury after perihelion 1, and Mars InSight will land on Mars on Monday Nov. 26th, at 2:55 PM ET.
Spacecraft
Parker Solar Probe
OSIRIS-REx – 75 miles from asteroid Bennu!
Mars InSight – Lands Monday Nov. 26th!
Voyager 2 – Almost at the edge of the Sun's Magnetic Influence!

-Data from the NASA Exoplanet Archive
---
Apps used for this post:
NASA Eyes on the Solar System: an immersive 3D solar system and space mission simulator – free for the PC /MAC.
I maintain the unofficial NASA Eyes Facebook page.
Stellarium: a free open source planetarium app for PC/MAC/Linux. It's a great tool for planning observing sessions.
---