The constellation Gemini is nearly overhead in the predawn sky – look for the two bright stars, Pollux and Castor near the constellation Orion.
The constellation Leo with the bright star Regulus rises earlier each day in the eastern predawn sky.
The Moon joins Mars and Saturn in the southern sky after sunset this week.
Jupiter is the "evening star," appearing low in the southwestern sky at dusk, and setting shortly after dark. If you have a clear horizon, you might be able to catch a glimpse of Mercury a few minutes after 5:00 PM.
Observing Target: Comet 46P/Wirtanen
Comet 46P/Wirtanen is within the orbit of Mars, and it is heading in our direction – it will pass within 11.5 million kilometers (30.23 lunar distances) of Earth – that's REALLY close! It should be a fantastic observing target. BUT! It's a comet… I can't count the number of times I've see media prophecies of  "Comet of the Year" fall flat. But I'll sure HOPE it turns out being great – it'll be visible for several months, so it'll have a lot of time to be great!
Comet 46P/Wirtanen currently looks like this:
You can find Comet 46P/Wirtanen low in the southern sky after midnight this week:
The Moon
The Moon is a waxing crescent heading towards first quarter later on the 16th; for the rest of the week, the Moon will be a waxing gibbous, heading toward full. The Moon will be an excellent observing target this week, however it's proximity to Mars and Saturn may wash those bodies out.
The Sun
SpaceWeather.com says that sunspot AR2725 is decaying – after squinting at a 4K hi-rez photosphere image, I sure couldn't see anything remaining of it – BUT just look at the boiling region of coronal activity near the equator in the animation below!
A coronal hole has reopened up at the south pole, and the weeks-old north polar coronal hole remains; several smaller coronal holes appear in various locations.
A few small prominences have appeared on the Sun's limb in the last couple days – if you look closely at this animation, you'll see several pillar-type prominences pop-up and vanish in a single frame or two.
The solar wind speed is 534.8 km/sec, with a density of 2.2 protons/cm3.
Asteroids
Upcoming Earth-asteroid encounters:
Notes: LD means "Lunar Distance." 1 LD = 384,401 km, the distance between Earth and the Moon. Table from SpaceWeather.com
Near-Earth objects (NEOs) discovered this month: 100, this year: 1561, all time: 18959.
Potentially hazardous asteroids: 1936 (as of October 16, 2018)
Minor Planets discovered: 785,045 (as of October 9, 2018)
Orionids Meteor Shower
The Orionids are a medium strength shower that sometimes reaches high strength activity. In a normal year the Orionids produce 20-25 shower members at maximum. In exceptional years, such as 2006-2009, the peak rates were on par with the Perseids (50-75 per hour). At this time we are unable to predict exactly when the Orionids will be exceptional but there are theories that there may be a 12 year period in this cycle.
The Orionids are active from Sept. 23 – Nov. 27, and peak on Oct. 21-22.
Radiant: 06:20 +15.5° – ZHR: 25 – Velocity: 41 miles/sec (swift – 67km/sec) – Parent Object: Comet 1P/Halley
Interactive Visualization of Orionid Meteoroid Stream
[iframe src='https://www.meteorshowers.org/view/iau-8′ percent=100]
Fireballs
On Oct. 15, 2018, the NASA All Sky Fireball Network reported 10 fireballs.
The Solar System
This is the position of the planets and a couple spacecraft in the solar system – it amazes me how quickly the Parker Solar Probe has reached in-system, and Mars InSight is getting real close!
Spacecraft
Crew of Soyuz MS-10 Recovered Safely After Aborted Launch
A Speculative Timeline Regarding the Events of Soyuz MS-10's Abort
Hubble Team Testing Anomalous Gyro
Mars InSight – Getting Closer
OSIRIS-REx Preforms Second Asteroid Approach Maneuver
Confirmed Exoplanets: 3,793 (10/04/2018)
Multi-Planet Systems: 629 (10/04/2018)
Kepler Candidate Exoplanets: 4,717 (8/16/2018)
TESS Candidate Exoplanets: 44
-Data from the NASA Exoplanet Archive
Latest Exoplanet Discoveries: https://exoplanets.nasa.gov
---
Solar Week: Oct. 22-26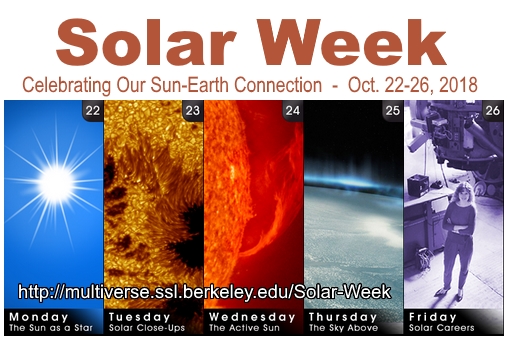 Solar Week is a week of online lessons, games and hands-on activities about the Sun for grades 5-9 or ages 9-14. Solar Week happens twice a year, approximately mid-to-late March and mid-to-late October.
Monday – The Sun As a Star
Tuesday – Solar Close-Ups
Wednesday- The Active Sun
Thursday – The Sky Above: Earth's Upper Atmosphere
Friday – Solar Careers, Internships and Opportunities
---
Apps used for this post:
NASA Eyes on the Solar System: an immersive 3D solar system and space mission simulator – free for the PC /MAC.
I maintain the unofficial NASA Eyes Facebook page.
Stellarium: a free open source planetarium app for PC/MAC/Linux. It's a great tool for planning observing sessions.
---