This is the third in a series of posts on affordable astrophotography. Click here for all of them. These posts show that you do not need money to do astronomy, or even astrophotography.
What you see here are moon photos taken with an old "pre-pay for minutes" smartphone that I bought at a grocery store for $10, almost ten years ago. That is right: a ten-year-old, ten buck phone. Every photo and video in this post was taken with this "Ten Buck Wonder" (or TBW). Whatever camera you have, cheap though it may be, is probably better than the TBW—a lot better.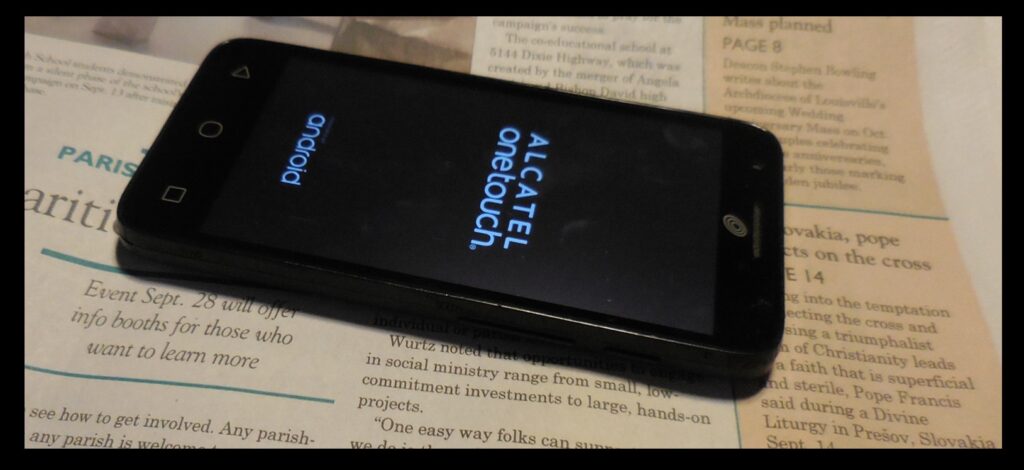 The TBW took some decent, and very fun, photos of the quarter and near-full moon.
Have a look at the quarter moon photos and videos below. The camera has two main problems here. One is that it struggles with exposure—it tends to make the moon either too dark or too bright. The other is color—everything looks a little green, I think.
The three photos below include two taken with the TBW's regular camera (left, center) and one still frame (right) captured from video (below the three photos). I think the video still is the best. You can clearly make out the central peak of the large crater near the middle of the picture. Look up a map of the moon (click here for one) and see if you can identify those craters, and some of the other features the TBW captured.

The TBW had less trouble with the moon when it was near full.  This is really obvious in the near-full video below.  You see that the camera readily produced continuous video of passable quality in the case of the near-full moon. 
Because the video is steadier, you can see in it, for example, the turbulent air of that night causing the whole view of the moon to shimmer. This is most visible along the edges of the moon. This is not a camera effect—the eye saw the shimmering, too.

Despite the shimmer, lots of lunar features are easily visible. These include the lunar mare (the dark areas), and the rays of craters spreading across the lunar surface. Again, check out a map and see what you can identify.
The telescope used for these photos and videos is a small set-up I scrounged together from cast-off stuff—a tripod from one old telescope, the tube from another. The tripod has hand-crank position adjusters for tracking objects and is probably 5 years old; the telescope tube (which I mated to the tripod using a piece of wood) is perhaps 20 years old. I just held the camera up to the eyepiece and shot photos. That's all.
Affordable astrophotography! What a concept. What fun! And it is possible. Now I need to figure out some low-cost way to affix the TBW to the eyepiece so the images, and especially the videos, are steadier.