Back when I taught an introductory-level astronomy class at university, I would start the course with a short unit on what science is and on the relationship between faith and science. I would mention Gregor Mendel as an example of a religious scientist because anyone who has taken high school biology knows the name.  So then I would ask the class what they know about him.
"Father of genetics," one person would say.
Another student would pipe in, "He was a monk!"
A third would offer something about "<mumble, mumble> pea plants."
At this point, I would then ask, "Okay, so given what you know about him, what do you think his job (his daily work) at the monastery was?"
Every time I taught this unit, and almost every time I have brought up this example with peers (there's always someone who spoils the trend eventually), I got the response, "He was the gardener."
It makes a certain sort of sense.  We think of monks as living a quiet, simple life. Pea plants plus simple living must equal gardening, right?  I think we develop a picture in our heads of a monk quietly at work in the garden, and one day he suddenly notices that baby pea plants inherit certain traits from their parent plants.  "Golly gee, would ya lookit that!" we imagine him saying (in a quiet whisper, of course), and from this event genetics is born (somehow).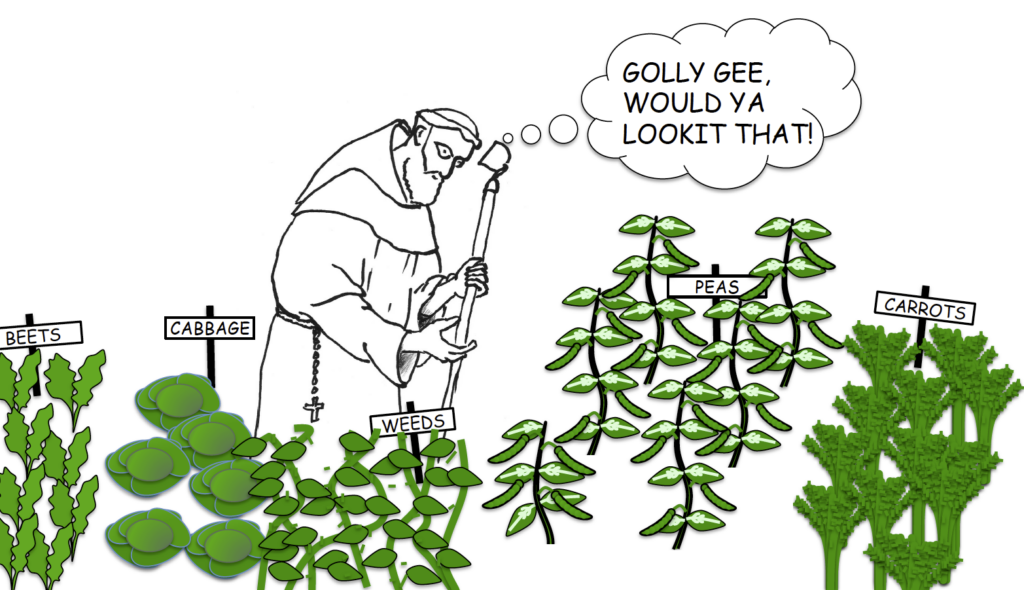 The reality of Gregor Mendel's life, his work, and even the monastery in which he lived is far, far from this idyllic picture I have just painted.  Take a look at his photo, and ask yourself, "does this look like a simple gardener?"
The fact is, Gregor Mendel was a scientist, and the monastery in which he lived was involved in scientific research, particularly in agricultural research.  He was actively studying the inheritance of traits, for which he painstakingly cultivated and interbred over 28,000 plants.  We know of his work because he published his findings in scientific journals.  To be fair, in his research he made extensive use of the monastery's garden, but he was no mere gardener.
Biographical Sketch
Johann Mendel was born in 1822 into a relatively poor farming family in what is today the Czech republic. After initial education at the University of Olomouc, he entered the Augustinian monastery of St. Thomas in Brno (Brünn) in 1843, where he took the name Gregor.  He intended to be a teacher, but failed the requisite teaching exams.
He was ordained a priest in 1847. In 1851, Mendel continued his education in physics, mathematics, and natural history at the University of Vienna.  After he returned, he began researching the heredity of traits in pea and other plants.
In 1868, he became the abbot of the monastery at Brno.  Taking on such administrative duties meant the end of active research for him.  (Readers who are in academia will understand.) This period was marked by a bitter dispute with the civil government over taxation of the monastery.  After his death in 1884, his successor burned all his papers, including his notes (probably to avoid further complications with the tax issue).
Scientific Research
Mendel chose to focus his research efforts on the heredity of traits at the suggestion of fellow monks. The monastery was involved in the raising of merino sheep for wool, and was concerned with whether inherited traits would breed true.  He chose to study plants rather than sheep because they offered several advantages, including short time between generations and the ability to control fertilization.
In his research, he cultivated and bred over 28,000 plants—mostly but not exclusively peas—studying seven traits ranging from plant size to pod color and pea texture. From this work, he derived his laws of the inheritance of traits.  I won't go into detail on these laws here; an interested reader can just pick up any high school biology text.  Or just do a quick Google search—here is one site,  sponsored by Palomar College.
Mendel published his findings in 1866, in an article entitled "Experiments in Plant Hybridization" ("Versuche über Pflanzen-Hybriden") in the Proceedings of the Natural History Society of Brünn. The publication was fairly obscure. Nevertheless, when in 1900 Hugo de Vries, Karl Correns, and E. von Tschermak independently published on the same topic, they each cited his earlier paper, thus marking the beginning of his reputation as the "Father of Genetics."
Mendel's research was not limited to the study of plant heredity.  He also bred bees, though little information remains about the results of that research.  Furthermore, he carried out some research in meteorology and, yes, astronomy as well. He cofounded the Natural History Society of Brünn in 1861, and the Austrian Meteorological Society in 1865.
Just to keep this topic vaguely astronomical, I should also mention that there is a lunar crater named after Gregor Mendel, as well as the asteroid (3313) Mendel.
I had the pleasure of visiting Brno a couple years ago. The site of the old monastery is now the property of Masaryk University, but they have maintained it well, with a museum and visitors' center.  Here are a few photos I took:
[one_half]
[/one_half][one_half_last]
[/one_half_last]