May 4, 1938 – October 31, 2021
"Three characteristic occasions remind me of Brother John as an accomplished facilitator of the Vatican
Observatory's mission.
The first was in the summer of 1986 when he was minister at our headquarters in the Papal Palazzo at
Castel Gandolfo. He had been invited, maybe challenged, by Father George Coyne, the then director, to
manage lunch for the very first Vatican Observatory Summer School. John co-opted the help of his
fellow Maryland Province Brother, James Lemon (a.k.a. Juice), and together they contrived for a month
in a far from ideal kitchen to produce lunch on the adjacent terrace for the 25 students, the three
professors, and sundry others including those from the Jesuit community who joined the pleasant
gathering. Goodness! Talk about working miracles, all with much patience and humor from the John-
Juice combination. In subsequent repeats of the Summer School, outside catering was found to be the
less stressful solution.
The second occasion was John's commission, also from George Coyne, to set up during 1989 to 1990 the
new residence for the portion of the Vatican Observatory's Jesuit community in Tucson. Now, building
the extra wing along the eastside of the property was right up John's street. (I affectionately call it the
Baltimore Bunker, after the John's Province's home city.) Furnishing this wing and the rest of the house
needed some special expertise. Whom else should John best engage to advise on this but the Vatican
Observatory Foundation's tax accountant, Carla Keegan? Carla did such a quality job that a couple of
years later, when I was needing to furnish the Thomas J. Bannan facility for the Vatican's new Alice P.
Lennon telescope on Mount Graham, John suggested I too call on her expertise. Maybe John, like me,
then just followed Carla around Tucson's furnishing stores with a checkbook in hand. Much of the
furniture is still giving good service nearly 30 years later despite hard use. John would always buy
quality.
My final occasion with John also involved furniture, kind of. John used to hunt bear in Maine with one of
his brothers, I think Patrick. Instead of making yet another bear rug from the skin, John had one of them
mounted in a standing, rather threatening pose, ideal for enhancing the atmosphere of his office. The
bear was shipped to Tucson, but in a case far too tall to fit even into one of our mountain SUVs.
Undaunted, John remembered that the Astronomy Department at the University had a pickup truck for
running errands around town. While the staff member, who kindly arranged for John and I to borrow
the truck, was running through possible explanations to authorities of how a mounted bear was
essential to our astronomical research, John and I went out and successfully conveyed the beast from
the road transport company's depot back to his office at our residence. With John, you never knew what
the new enterprise would be; but he could always make it work.
God's peace to John now from his labors." – Chris Corbally, Nov. 8, 2021
Br. John started with the Vatican Observatory Foundation in 1987, a year after the Foundation started; he retired from the VOF Board in February 2013, after leaving Tucson.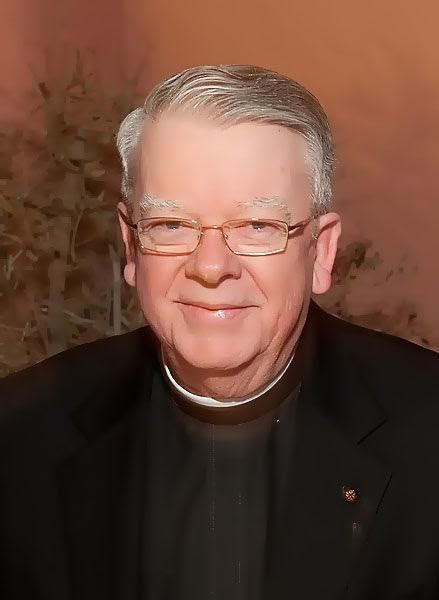 "Brother John B. Hollywood, S.J., was born on May 4, 1938, in New Philadelphia, Pa. to John Patrick and Anna Marie (McQuail) Hollywood. He was one of four siblings with brothers James, Paul, and Patrick. John was a member of the first graduating class at Nativity BVM High School in Pottsville, Pa. in 1956 before entering the Society of Jesus at the Novitiate of St. Isaac Jogues in Wernersville, Pa. the following year. He pronounced his final vows at the Church of the Gesu in Philadelphia in 1971.
As a Jesuit Brother, John Hollywood served many of the Maryland Province's schools and universities over his more than six decades in the Society of Jesus. He worked at St. Joseph's Prep in Philadelphia as an assistant treasurer and director of facilities, at Loyola High School in Baltimore as a business administrator, Loyola College in Maryland as treasurer and assistant minister, and The University of Scranton and Georgetown University as both minister and treasurer of his Jesuit communities. He also worked as treasurer for the Vatican Observatory Foundation, serving in both Rome and Tucson, Arizona. Later in his career, Brother Hollywood directly served the Maryland Province, overseeing finances for its apostolic properties and then as an assistant to the advancement office, raising needed funds for elderly Jesuits and men in formation.
Brother Hollywood's travels and service also took him to Jerusalem where he served as Knight Commander of the Holy Sepulcher, an order whose mission is to support the Christian presence in the Holy Land. A true Irishman at heart, John was an active member of the Ancient Order of Hibernians, an Irish Catholic fraternal organization.
As an accomplished minister, treasurer, and business administrator, Brother Hollywood helped advance the mission of many Jesuit institutions throughout his province, going where Jesuits always go—where the need is greatest. He spent his final years at the Colombiere Jesuit community in Baltimore, praying for the Church and the Society of Jesus.
Brother Hollywood died on October 31, 2021, at the age of 83. He is survived by brothers James, Paul (deceased), and Patrick, as well as a niece, Brynn Marie Hollywood." – Jesuits USA East