The Vatican Observatory has hosted thousands of visitors over the years. Among those who have signed our guest book, one can find Popes, Nobel laureates, authors, astronauts, and saints. Today's entry is from May 9, 1935, when Augustin Bea made a visit.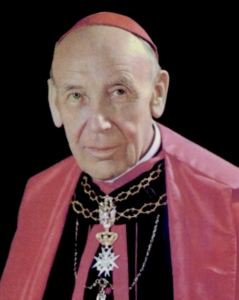 Fr. Augustin Bea, S.J. (1881-1968) visited along with three others: Federico Millosevich (the subject of a previous post); Gustav Closen SJ (1901-1943, a professor at the Biblicum); and Karl Wennemer SJ (1900-1993, a moral theologian).
At the time of the visit, he was the rector of the Pontifical Biblical Institute in Rome. He would later be named a Cardinal and would play a vital role in the Second Vatican Council.
Bea had been the Jesuit provincial superior of Germany from 1921-1924, after which he came to Rome to be professor at the Biblicum and rector of the institute of Superior Ecclesiastical Studies. He served as rector of the Biblicum from 1930 to 1949.
From 1945 to 1958, he was confessor to Pope Pius XII.
In 1959 he was named cardinal by Pope St. John XXIII. He then served as the first president of the Secretariat for Promoting Christian Unity.
In 1962 he was ordained a bishop by Pope John XXIII. (N.B. it is not necessary to be a bishop to be named a cardinal, though these days it is uncommon for a non-bishop to serve in that capacity.)
That same year, Pope St. John XXIII convened the Second Vatican Council. Bea was one of the key members who drafted the Conciliar document Nostra Aetate (The Declaration on the Relation of the Church with Non-Christian Religions). This decree was instrumental in condemning anti-semitism and repairing some of the harm caused by centuries of anti-Jewish sentiment.
He was one of the cardinal electors in 1963 who selected Giovanni Battista Montini as the next pope (Pope St. Paul VI).