A little Welcome
Yeah, Смертоносні Місяці means Deadly Moons in Ukrainian. Five children in the first group were new to Ireland after fleeing the war in Ukraine. Despite their young age and language issues, they nevertheless produced good drawings. They were keen to be involved, as were the rest of the children from the first and second classes of The Educate Together NS. There are circa 700 refugees fleeing the war living in Westport. I expect to cross paths with many more in the new year. It is my intention to learn a few words in their language to help them feel welcome. For you information the word Deadly means Wonderful in urban street speak.
Moons to think about
The group was very vocal, asking many questions throughout the session. Young Tom chose to draw Mars's moon Phobos, not a moon many try. A deadly moon that looks like a rooster potatoe. He did an excellent job for a six-year-old and was proud of his drawing. The children were fascinated by Io with its volcanos, Titan with its obnoxious smells and Enceladus with its exploding ocean. One young child actually attempted Hyperion, a most difficult deadly moon. Our moon is, of course, included in the workshop. However, nobody picked it to draw, it was therefore timely to mention Artemis as it was due to launch the following day. This new moon mission was fresh news to them, as it seems to be for most school children.
Moon memories
The second workshop of the week involved the lively 5th and 6th class from St Brendans NS from Kilmeena. A great bunch of enthused students, along with their equally energetic teacher. The children drew twenty-four deadly moons that morning. Titan and Mimas were the most popular choices. Because Artemis 1 had launched at 6:47 am Irish time, that unfolding story had to be showcased.
I found myself telling the story of me watching the first moon landing on a TV smaller than the pages they had for their drawings. The concept of a black-and-white TV amused them. They had to be reminded how lucky they will be to see the next moon landing in HD with excellent sound. Their teacher said the moons they created would all go on exhibition at their school. Both groups got NASA moon cards, and the teachers got ESA posters showing their spacecraft in our solar system and beyond.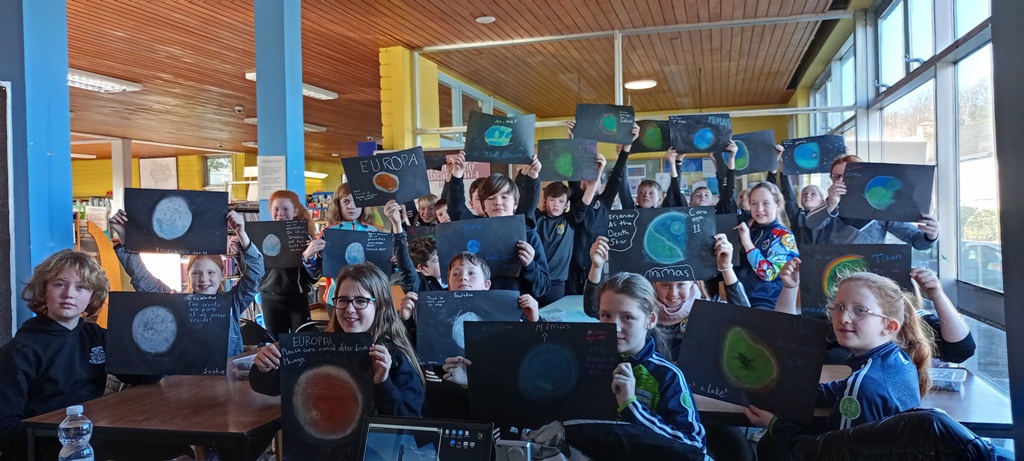 Nice list of interesting facts about the Artemis 1 launch by Bob Trembley