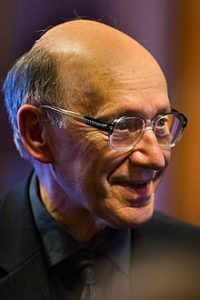 Article
1100 words
Level: all audiences
A brief discussion by Javier Sánchez Cañizares regarding the life and work of Fr. Michael Heller (Fr. Heller is an adjunct scholar with the Vatican Observatory), on the occasion of Fr. Heller being awarded the 2008 Templeton Prize. Javier Sánchez Cañizares is part of the Grupo Ciencia, Razón y Fe at Universidad de Navarra. He writes:
A partir de la supremacía de una superestructura matemática ideal (un campo formal o campo de 'racionalidad') sobre la materia, su pensamiento conduce a la idea tradicional de un Dios trascendente que, por otra parte, es el origen creador, el fundamento del ser, del que surge el espacio-tiempo del mundo creado. Heller explica su posición así en la conferencia de recepción del premio: "Los procesos del universo pueden ser visualizados como una sucesión de estados de modo que el estado precedente es causa del siguiente (…). Hay siempre una ley dinámica que prescribe cómo un estado genera otro. Pero las leyes dinámicas se expresan en la forma de ecuaciones matemáticas; por ello, si nos preguntamos acerca de la causa del universo, deberíamos preguntarnos sobre la causa de las leyes matemáticas. Haciendo eso, volvemos al gran proyecto de Dios pensando el universo, la cuestión sobre la causalidad última (…): '¿Por qué hay algo en vez de nada?' Al preguntarnos esta cuestión, no estamos preguntando por una causa como las demás. Nos estamos preguntando por la raíz de todas las posibles causas".Con su trabajo, el sacerdote polaco ha relanzado la discusión sobre la necesidad de una causa para el universo y sitúa la concepción cristiana tradicional sobre el mismo dentro de un contexto cosmológico más amplio. Es uno de los iniciadores de lo que podemos llamar en la actualidad 'teología de la ciencia'. Heller ha manifestado su deseo de dedicar la cuantiosa dotación económica del premio a la creación del centro 'Copérnico', en unión con la Universidad Jagelónica y la Pontificia Academia de Teología de Cracovia, para la investigación y la educación en ciencia y teología como disciplina académica propia.
Click here to access the full article from Grupo Ciencia, Razón y Fe at Universidad de Navarra.
Click here for information about Fr. Heller from the John Templeton Foundation.