Ever since Br. Guy invited me on board "The Catholic Astronomer" I have had my eye and camera out for instances of math and science (and astronomy in particular) appearing in public art and architecture, because that would be great subject matter for the blog.  But clear instances of public math and science (versus, say, something like generic stars on the ceiling of a building) have turned out to be rarer than I was expecting.*  As noted in previous posts, some can be found in Milwaukee, Wisconsin and Minneapolis, Minnesota.  And then there is this interesting mosaic in Mother of God Church in Covington, Kentucky: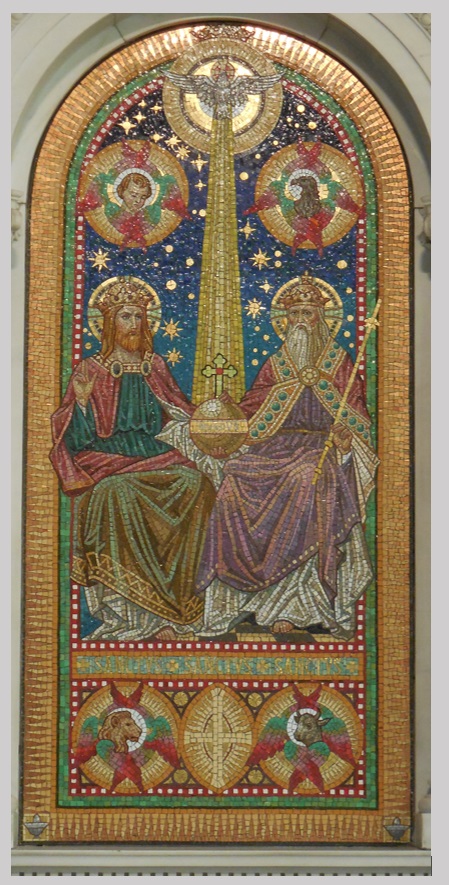 What is interesting about this is how the artist has represented the stars.  The stars are merely background for the mosaic: the subject of the mosaic is the Holy Trinity, with symbolic representations of the four evangelists.  But unlike most artistic representations of stars, these stars are not just generic spiky dots (such as are found in a window in Mother of God, for example) or five-pointed flag-type stars.  Rather, these stars are shown as dots of differing sizes or magnitudes, with the brighter ones having little flares.  This is exactly the way stars are shown in star charts.  The artist who made this mosaic had some familiarity with the sky—or at least with star charts.
Another interesting thing is the sphere in the center of the mosaic that the Son and Father are holding and that the Spirit is illuminating—it is labelled "MUNDUS," that is, "THE WORLD."  "Mundus" often refers to more than the Earth—that is, to the broader universe—which would make sense, since God would not be within the universe among the stars, caring for Earth, but rather would be beyond the universe, caring for all of Creation.  Therefore having stars scattered around the Trinity really does not make that much sense.  But of course the artist has some license.  My speculation is that the artist who made this mosaic was just itching to put something astronomical into it, especially since it involved a (admittedly symbolic) portrayal of the universe, so he or she decided to throw in some chart-quality stars.  Hey, there is a limited amount of astronomical imagery out there in art and architecture; I have to stretch what I find as far as I can!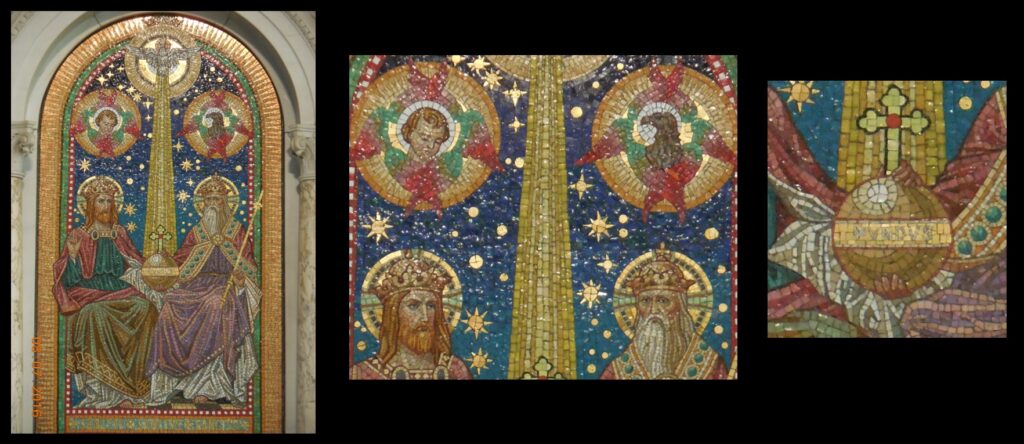 ---
*It is funny how we learn a lot about our surroundings when we start looking carefully for something—scientists have this experience a lot.