Can black holes remember things? This is the third in a series of posts about black holes and the black hole discussion that took place at the 25th Seven Pines Symposium in Stillwater, Minnesota, in May (where I was a participant). Click here for the whole series. The first of the series was all about Seven Pines and the black holes talks there. The second was about the basic physics behind the idea of black holes. This one is about black hole memory.
That's right, black hole memory. One of the Seven Pines talks that stuck with me the most was the one given on May 12 by Peter Galison of Harvard. Its title was "An Illumination of Spacetime". After supper on the 12th, Galison also showed to those participants who were interested (and remember, there were not even twenty of us) a related film he had made.
Galison's talk was about creating a better Event Horizon Telescope, a "next generation EHT" or "ngEHT". The EHT, you may recall, is the instrument, or network of instruments, that gave us that iconic first image in 2019 of a black hole in the galaxy M87 in the constellation Virgo. The black hole is called M87*.

But the talk was also about the idea of a black hole remembering the universe, and of a sufficiently powerful ngEHT, created via links to a radiotelescope satellite to form a hypothetical instrument called the "Event Horizon Explorer"*, being able to "extract" those memories.  As Galison put it in the abstract for his talk, such an instrument would allow us
to peer inside the luminous donuts imaged of M87*, and from it extract the trace of orbiting light itself, a nested series encircling the black hole. Freed from the complexities of the billion-degree plasma orbiting M87*, observing the photon ring would offer a direct glimpse of spacetime itself in the neighborhood of a black hole. In principle, light from anywhere in the universe (anywhere visible from the black hole), could get caught in this succession of orbits — philosophically (not practically) — here would be the ultimate storehouse of memory.
So, can a black hole really remember the past? In a sense, yes. For that matter, so can a mirror.
Imagine you are gazing at a far-off object, as seen below. Light travels from the object to you along path 1. Let us suppose the object is one light-second distant from you. That means its light takes one second to reach you (and since light travels at 186,000 miles per second or 300,000 km per second, the object is 186,000 miles or 300,000 km distant). Now suppose there is a distant mirror that reflects light from the object to you, as also seen below. Light from the object can then also reach you via path 2, and you see an image of the object. Path 2 is more than twice the length of path 1, so the image you see in the mirror is the object as it was more than two seconds ago.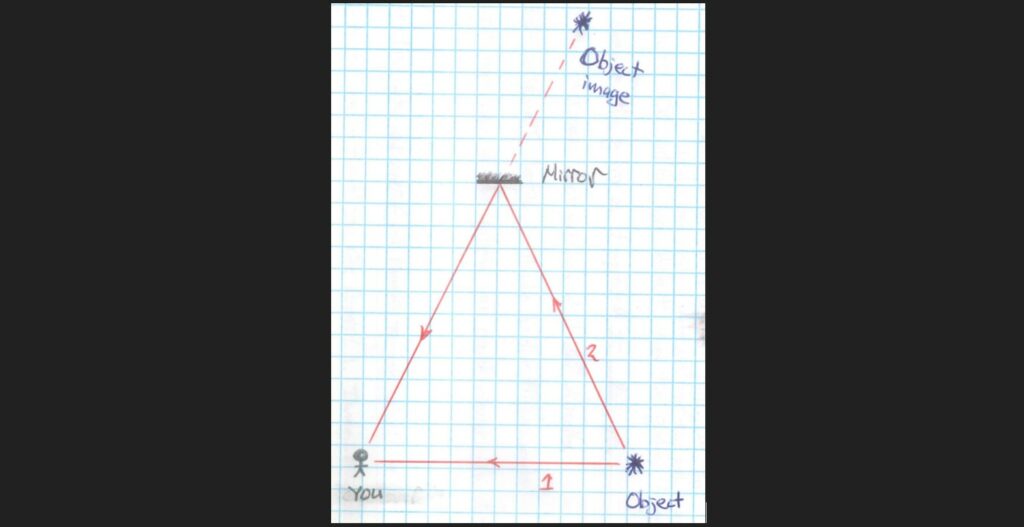 Suppose the object is changing colors every second; then you will see the image in the mirror to be a different color from what you see when looking directly at the object! You might have actually experienced this with sound. For example, if an emergency vehicle is sounding its siren, and the sound is echoing off a distant building, you can hear the echo (which is delayed) mixed in with the original sound, so that you hear at the same time two different sounds that were put out by the same source at different times.
As seen below, a black hole could do this sort of thing by bending light (see the second post in this series regarding gravity bending light), and thus sending light from a distant galaxy to you via a different, longer path. In the diagram below, path 2 is about 25% longer than path 1, so if the galaxy were 100 million light-years distant, then the galaxy image produced by the black hole (via path 2) would be showing you the galaxy as it appeared 25 million years earlier than it appears when you look at it directly (via path 1). Thanks to the black hole "remembering" the earlier appearance of the galaxy, you could observe how the galaxy had changed over 25 million years.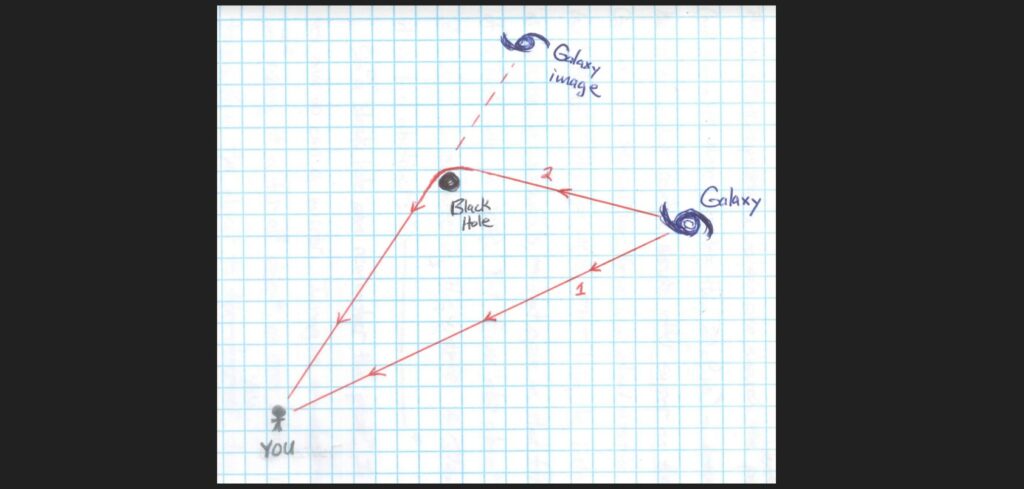 But this gets stranger, thanks to light having a speed (thank you, Ole Römer). Imagine being between two parallel mirrors, like in the diagram below. (There was actually such a mirror pair on a stair landing at The Outing Lodge, where the Seven Pines conference was being held.) If you look at mirror A you will see an image of yourself, of course, because light travels from you to A and back to you (path 1). Thanks to the time that it takes light to make the trip, you see yourself as you were in the past. Were mirror A one light-second distant, you would see yourself as you were a couple of seconds ago (just like an echo reveals to you the shout you gave out a couple of seconds ago). You would see your reflection respond as if on a two-second "tape delay".

But there are two mirrors. The light can go from you to A, then to B, then back to A, then back to you (path 2). So you will see another image, this time of yourself about four seconds ago. The process can continue indefinitely, showing an indefinite number of "yous", each further back in the past.
The images below show increasing numbers of such images between two nearly-parallel mirrors (the mirrors are more parallel at right; perfectly parallel mirrors would produce an indefinite series of images). Those images that appear more distant have been reflected more times, and thus show the green-topped bottle further back in time (by some ridiculously small fraction of a second). The two mirrors "remember" the bottle. Each reflection is a sort of "frame" in a "film" of the bottle's existence. If you lived your whole life between two such mirrors, they would "remember" it all, storing a film of your whole life.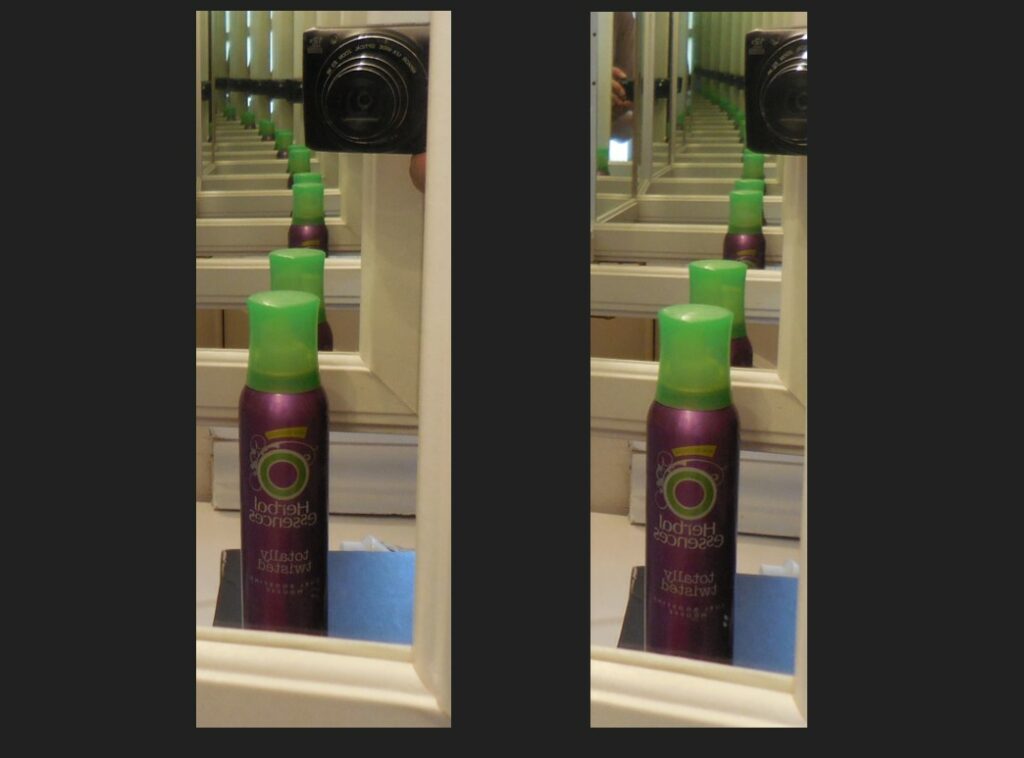 Well, a black hole can do what the two mirrors can do. Rather than bounce light back and forth, a black hole can whip light around itself once, twice, an indefinite number of times. Thus a black hole can be, in theory, the "ultimate storehouse of memory", taking in light from all over the universe and storing those "memories" in the form of a nested series of light orbits whipping around the black hole. Galison recently described this using the language of frames of a movie:
Perhaps one of the most ambitious, interesting things from a fundamental physics point of view is that photons can actually orbit. The gravitational field near the [black hole's event] horizon is so strong that photons can go into orbit, and if you (with the eyes of a cosmic Lynx) could see them, you would see a series of rings corresponding to one orbit, two orbits, three orbits, four orbits, and that in a way what you're looking at are photons that arrived longer and longer ago. If it takes four or five days [for light] to go around the black hole M87, then what you're seeing in each of the successive rings is a kind of frame of a cosmic movie of the whole visible Universe — [a movie] captured in this infinite sequence of rings around the black hole.
People are drawn to this "storehouse of memory" idea. Galison is. He is a filmmaker as well as a physicist and historian of science. He made the video below about the EHT and the imaging of a black hole.
The after-supper film he showed to us at Seven Pines was about black holes and memory.* It was very moving. A while back Galison became terribly ill, and had to go to the hospital for a surgery that he might not survive. The film was full of images of his childhood and his family, and of hospitals, but it also featured the EHT black hole images. The film showed how, as Galison faced an anesthesia-induced unconsciousness from which he might never awake, he found comfort in the idea that the universe might remember it all, via black holes (as though he had indeed lived his life between those parallel mirrors).
I think about memory a lot. There are many things I cannot remember. For example, I wish I had vivid, video-like memories of my sons' birthdays as kids, but I don't. I grasped what Galison was saying. It was kind of heavy.
But people are drawn to the idea of black hole memory for lighter reasons, too. At Seven Pines, we had a lot of time available for talking. Every day at lunch I would gather up a group to take a long walk on one of the substantial trails in the area around lodge. On one of those days Iñigo González de Arrieta (University of the Basque Country), Lloyd Knox (UC Davis), and Shep Doeleman (Harvard) joined me. Doeleman is the leader of the EHT team. He was telling us about how some people involved in the EHT project derived some of their enthusiasm about black holes in part from the notion that black holes could hold all sorts of images of Earth's past. The idea that, at least in theory, there might be "video" stored within a black hole — of, say, Tyrannosaurus Rexes roaming the Earth! — was something that some folks found really cool.
Well, it is cool. I got the impression Doeleman finds the idea kind of cool, in a "late night discussion" sort of way. And yes, black hole memory in general is a really cool idea!
But on that walk I told Doeleman, Knox, and González de Arrieta that I do not think that a black hole can remember T. Rex. I don't think it can remember Peter Galison's life and family, either. I think the laws of physics, and indeed the topic of my talk at Seven Pines, prevent it.
My attempt to smother the flame of EHT (or ngEHT) black-hole coolness in a smelly wet Kentucky horse blanket will be the subject of the next "Black Holes at Seven Pines" post, three weeks from now.
Click here for all the "Black Holes at Seven Pines" posts.
---
*The statement "created via links to a radiotelescope satellite to form a hypothetical instrument called the 'Event Horizon Explorer'" was added to this post on 9/22/23. Both of Galison's films were produced with support of the Templeton Foundation, which has also supported Vatican Observatory Foundation projects.