Let's Draw our Moon
Before the pandemic, I used to do in-person workshops for the Mayo Science and Technology Festival. Workshops about our moon, Mars, our sun and other wonders. This annual weekend event was a massive undertaking by what was then known as The Galway Mayo Institute of Technology. The attendees were mainly families, mams, dads, kids, grannies and grandpas. Every room and outside area hosted science-based fun activities. The building held a wonderful atmosphere, giving all attending a positive view of college life.
Online video
When the lockdown happened, everything went online. So I taught myself how to make videos, record sound and edit the packages in a palatable way. This year I figured it would be back to in-person again. However, much to my surprise, the requirement was for online material. So even though I had planned a live workshop, I had to create another video.
The video is called Let's Draw our Moon. It originates from the fact that many people look up at the moon and say. Oh, that's beautiful or… isn't that romantic. These are valid points. However if you ask what they are really looking at, they would, in many cases, not have a factual answer. So the idea was to do a step-by-step drawing video using simple shapes so anyone from age 8 to adult could follow and learn something.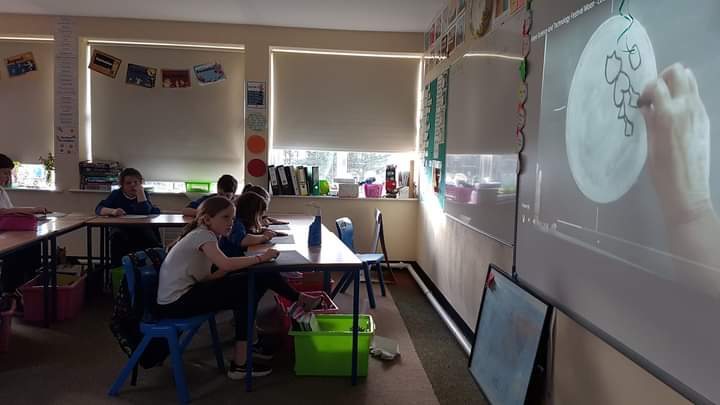 A little learning for life
Draw the moon as your eyes see it or perceive it without a telescope. So when the moon is in the night sky, you might then look up and say, Ohh, that is beautiful and isn't The Sea of Rains very sharp tonight or look at the terminator; its position is directly through the Sea of Tranquility. Even if just a few features are recognisable afterwards, that is progress. A little lifelong learning for some. A slightly bigger life learning for others, depending on their investment in the drawing.
Our moon at school
A few days passed after this year's online festival before I discovered that a local school had taken part using my moon video. The teacher contacted me, so I decided to visit the class and see their work. As I got out of my car, I could see all these moons in the school windows. They were on display facing out to the yard and the road. My astonishment was instant as they all looked so accurate. It was clear how good the writing was as I approached the windows. My smile grew larger because I was impressed by their significant attempts to draw the maria and highlands.
These children are aged eight, nine and ten. They created their moon drawings along with the video; the teacher paused the video from time to time so the kids could work away in some unity. It took approximately 35 minutes for all 23 drawings to be completed, including the writing.
A little improvment due
In retrospect, I realised that the video was not perfect and could be improved. The materials could be simpler and easier to acquire for schools. I am thinking about that and will update the video in the new year. The workshop will be fun to try out in person, and I am encouraged by the results of the online version. Also, it is on my mind to give the video away when is adjusted or make it available for use to anyone interested in trying it out.
I believe that drawing is an excellent tool for education. In particular for astronomy. There is a perception that astronomy is complex, but understanding has to start somewhere. Also, the desire to learn and understand has to have an origin. Drawings created in workshops like mine, in-person or online, do not have to be perfect. It is within the efforts made that the learning occurs and sticks in mind. The joy of that is magnified by being exhibited for all to see. The kids asked me lots of moon questions and were very keen to know more about the Artemis program to land humans back on the moon. Much to my delight I had enough NASA moon cards to give one to each child.
Last years festival online workshop
Last years online workshop about Space Exploration creating our Future