This is a place where you can comment on the topic below – please, volunteer to provide such topics of your own for future Open Threads! – or just let us know what's going on in your own personal universe.
Today's entry comes from Lisa Tobias, a member of our Faith Astronomy Workshop in 2015:
In case you were not in a position to see it or you did not have someone tracking every stage of the flight, NASA launched the Magnetospheric Multiscale spacecraft (MMS) this evening and there was a spectacular fuel dump over the U.S. My husband is slightly obsessed with this sort of thing, so he figured out (found out?) when the dump was supposed to happen and we were fortunate enough to both be geographically positioned where we could see it, but also have the cloud bank on the opposite half of the sky. The results are some amazing photos my husband was able to take of the fuel dump occurring.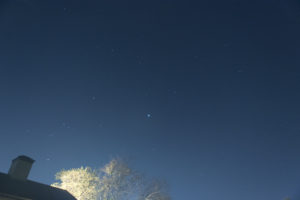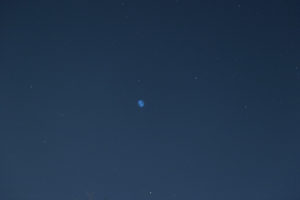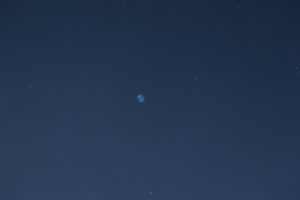 Besides the fantastic physics of fluids in space that the photos help to illustrate, and the basic wonders of space flight, this satellite is one which can really bring space to Earth for many individuals. This satellite is one of four identical satellites sent out to position themselves in an pyramid shape around the Earth to study the Earth's magnetic field (magnetosphere). Why do we care? Because it is the Earth's magnetosphere that protects us from the majority of the harmful solar radiation. If this falters in some way (look up the solar storm of 1859; this always scared my students half to death) or ends (like on Mars), our world would be a very different place.
I won't keep going on about this. It is one of my favorite topics to discuss with my students and the public at large because it is space truly impacting their lives, so I could go on and on. It's dramatic, frightening, and exciting all at once. Hopefully the MMS satellites will take some of the guesswork out of the equation, but until then, you will have an interesting story to tell and a new visual aid to facilitate the telling.
Enjoy clear skies. The Messier Marathon window is fast approaching.
p.s. Look for the rocket at the center of a couple of the shots within the fluid plume.