Optical System: Aplanatic Gregorian, f/9
Focal Length: 16.48 m
Primary Mirror: f/1.0, Diameter 1.83 meters
Secondary Mirror: f/0.9, Diameter 0.38 meters
Back Focal Distance: 50.80 mm (effective)
Vignetting-Free Field: 72 mm diameter (15 arcmin)
Image Scale: 12.52 arcsec/mm
Image Quality: 0.1 arcsec throughout 6.8 arcmin diameter flat FOV
Mount: altitude-azimuth with derotator
Latitude: 32 42' 04.69" N
Longitude: 109 53' 31.25" W
Altitude: 3191 meters
Driving Time from Tucson: 3.5 hours in good conditions
IAU Observatory Code Number: 290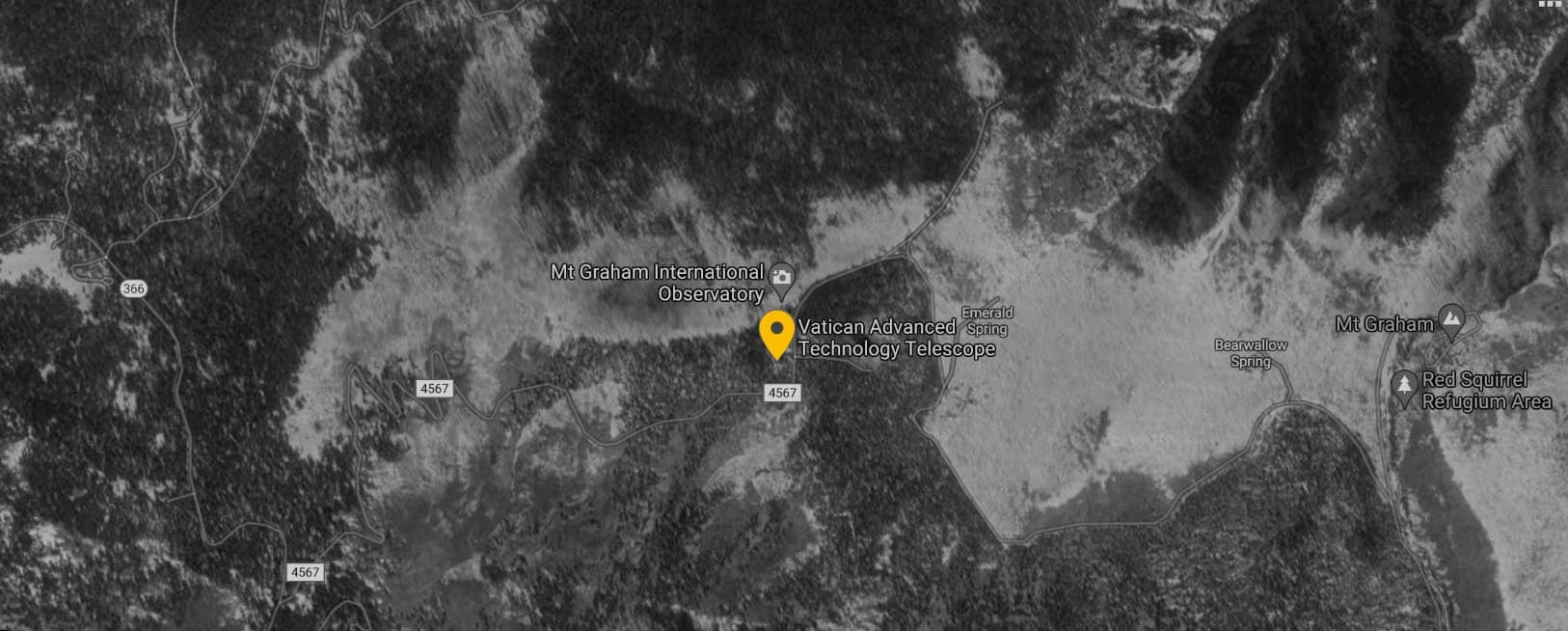 VATT4k is an astronomical CCD camera specially designed for photometric surveys and for observing faint objects by Dr. Michael Lesser at the University of Arizona Imaging Technology Laboratory. Though conceptually similar to the CCD chips commonly found in digital cameras and cell phones, these chips have been specially optimized to achieve remarkable sensitivity.
Technical information: STA0500A back illuminated 4K CCD, ITL serial number 8301, installed March 2017, and updated 26 January 2018.
Pixels: 4096x4096, 15x15 microns
Gain: 1.9 e/DN
Full Well: ADC limited (65k DN) = ~120,000 electrons unbinned
Noise: ~3.9 electrons
FOV: 12.5 arcmin square
Pixel Scale: 0.188 arcsec/pixel
Wavelength Range: 300 - 1000 nm, peak 96% at 450 nm
Preamplifiers added October 2008 inside the dewar. These give faster readout and lower noise.
The previous CCD camera, in use from 2007 - 2017, had the following characteristics:
Installed: September 2007
Design: Thinned back-ill. CCD (AzCam STA0500A)
Size: 4032 x 4032 pixels
Pixel Size: 15 micron (square)
Field of View: 12.5' (arc-minute) square
Plate Scale: 0.1875" (arc-second)/pixel
Default Gain: 1.8 e-/ADU
Read Noise: 5.2 e- (nominal)
Well Depth: 95,000 e-, 16-bit ADU
Read Time: 74 seconds (full-frame)
Spectral Response: 300 – 1000 nm (QE >50% from 300 – 860 nm)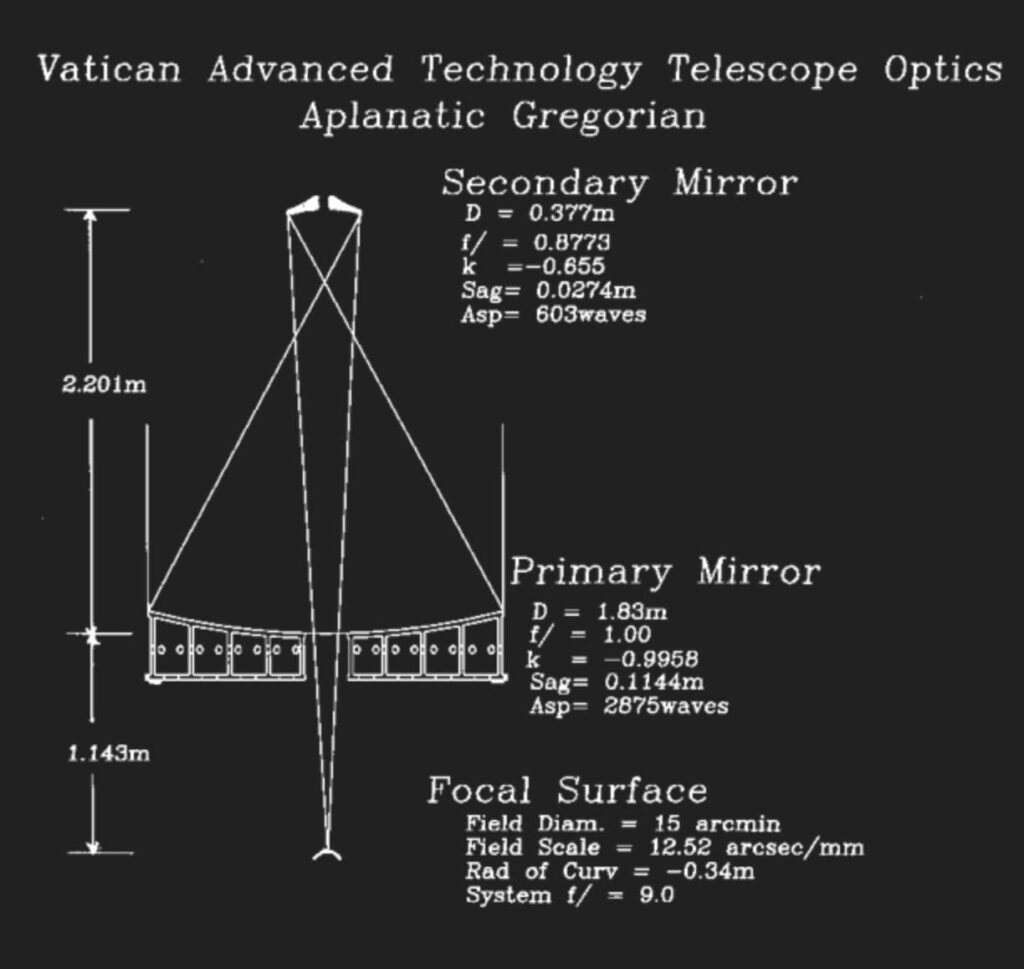 VATTSpec is a medium resolution CCD range spectrograph with a "skinny chip" having excellent cosmetics. Its UA ITL chip, Serial Number 8228, has a gain = 1.3 e/DN with setting 10, noise = 3.4 electrons, and the full well is 65k DN (=85,000 electrons at gain 10)
This optical region spectrograph has AR coated refractive optics, with a beam size at its camera of 125 mm, giving...
Slit Length: 30 arcsec
Wavelength Range: 360 - 950 nm
Spectral Coverage: 100 nm at 0.1 nm resolution
Spectral Resolutions: 0.1, 0.2, and 0.4 nm with 1 arcsec wide slit
Detector: Back illuminated, low noise CCD STA0520A, with very nice cosmetics

ITL Serial Number 8228
2688x512 pixels, 15x15 microns
Detector operating temperature -110C
Gain: 1.3 e/DN with setting 10; 2.6 e/DN with setting 5
Full Well, both gains: ADC limited (65k DN) = 85,000 or 170,000 electrons
Noise: 3.4 electrons (3.2 in overscan region)
Quantum Efficiency Curve

Efficiency: Determined by Mark Wagner for telescope plus spectrograph
Bandpass filters available: S8612 (red blocking); GG-400, GG-475, OG-550 (cut-offs to the blue in nm).
Installed: March 2011
Design: Medium dispersion spectrograph
Slit: 30" (arc-second) length on-axis
CCD: 2688 x 512 pixel (3.4 e- readnoise)
Pixel Size: 15 micron (square)
Resolution: 1, 2, 4 Å per 2 pixels w/ 1" slit
Coverage: 1000 Å at 1 Å resolution
Spectral Range: 3600 – 9500 Å
GUFI is a high speed imager provided to the VATT by the National University of Ireland Galway. This L3CCD system, based on an Andor iXon back-illuminated CCD camera, gives a readout time of only 2ms, extremely high time resolutions of up to 400 images a second (subframed), and very low light level sensitivity.
Field of view on VATT, 3 arcmin with current focal reducer.
On loan from NUI Galway.
Consult Richard Boyle for technical details, and see the NUI Galway "Brown Dwarfs and Substellar Objects" group.
Installed: June 2009 (on loan from NUI-Galway)
Design: Back-illum. CCD, Andor iXon™ DV887-BV
Size: 512 x 512 pixels
Pixel Size: 16 micron (square)
Field of View: 1.5'; 3.0' with optional "eld expander
Plate Scale: 0.174"/pixel (0.348"/ pixel with "eld expander)
Gain: 2.1 – 10+ e-/ADU, depending on settings
Read Noise: 1.0 – 4.5+ e-, depending on settings
Well Depth: 160,000 e- (conventional mode), 14-bit ADU
Frame Rate: 4 fps; 400 fps with sub-"elds
Spectral Range: 390 – 1000nm (less with "eld expander)
Provides interface to derotator for all the above instruments.
Effective back focal distance, from guide box to focal surface, is 2.000".
Guide Camera: Two Andor Aspen Apogee cameras
Guide Camera Sensitivity: 16th magnitude with one second integration
Guide Camera Field of View: 3.43 x 2.57 arcmin
Guide Camera Total Available Sky View: 120 fields
Contains two filter wheels, each holding four 3.48" square filters. Adapters to accommodate 2" and 3" square filters are available.
UBVRI, uvby, Vilnius, Sloan, ECAS, and Order Blocking filters are currently provided.
Integrating sphere with continuum and calibration lamps.