Back in 2018, I wrote a blog post highlighting a few Asteroids Named for Jesuits. Later in 2020, when the Vatican Observatory's own Fr. Christopher Corbally SJ was honored with an asteroid name, I wrote Asteroids Named for Jesuits: An Update. This not only added Fr. Corbally to the list, but included a few other asteroids that I had missed the first time.
Recently the IAU's Working Group for Small Bodies Nomenclature (WGSBN) published their latest batch of named asteroids (WGSBN Bulletin 3, #2; Feb 7 2023). Included in the list are three Jesuits who have worked at the Vatican Observatory and one Pope with importance to the history of the Observatory.
New Asteroids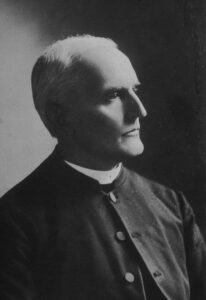 562971 Johannhagen is named for Fr. Johann Hagen (1847-1930), who was director of the Vatican Observatory from 1906-1930.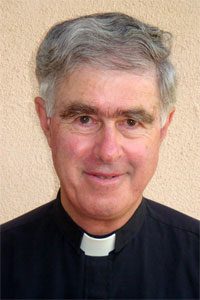 551878 Stoeger is named for Fr. Bill Stoeger (1943-2014), who was a cosmologist at the Vatican Observatory and a notable theologian in the area of theology and science.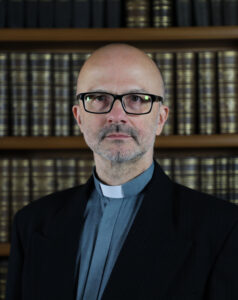 565184 Janusz is named for Fr. Robert Janusz (b. 1964), who formally joined the observatory just a few years ago, but has actively collaborated with the work of the institution (in particular, reducing VATT images) for several decades.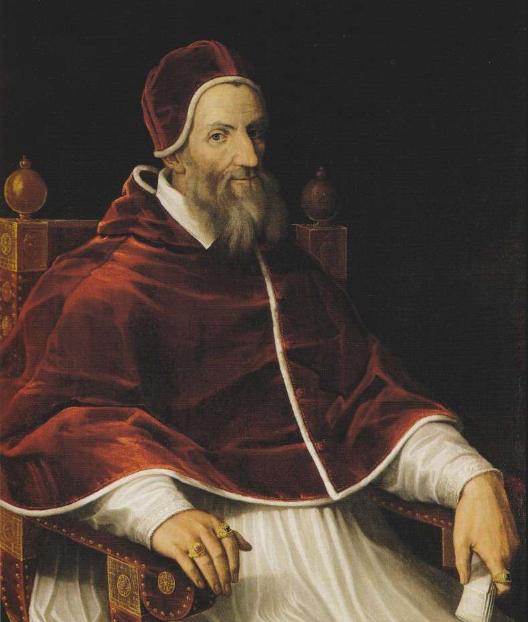 The asteroid named for a Pope is 560974 Ugoboncompagni. Ugo Boncompagni is the birth name of Pope Gregory XIII (1502-1585). It was he who directed the reform of the calendar, commissioning the Jesuit Christopher Clavius for the mathematical work of the project, and beginning the tradition of papal astronomers and observatories.
Asteroids Named for Jesuits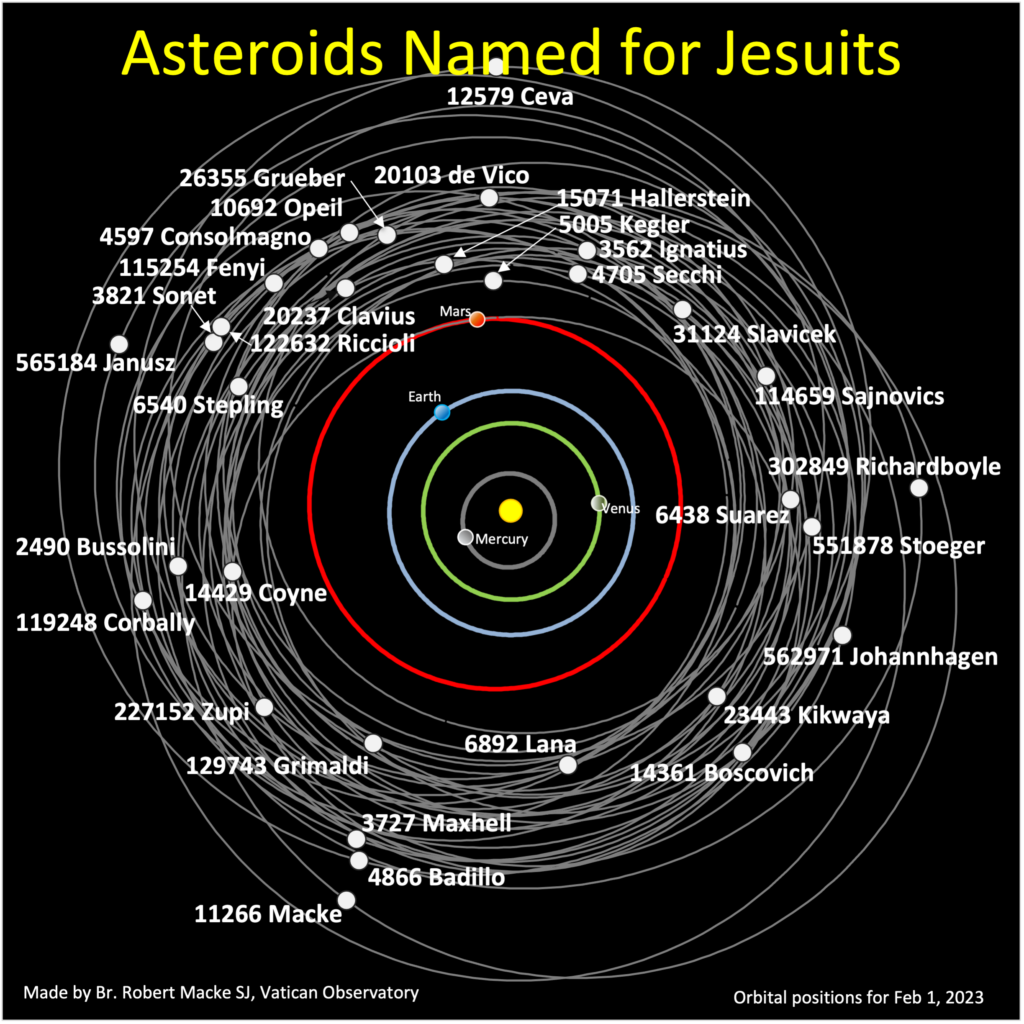 In honor of these three new Jesuit-named asteroids, I figured it is time to update the list. Not only do I have these three, but thanks in part to contributions from Andrew Kassebaum, Gareth Williams, and Bob Trembley, the overall list has grown considerably. Some, like 10692 Opeil (named for my friend and colleague Fr Cyril Opeil SJ, professor of physics at Boston College) are recently named, while many others I simply missed in my earlier searches.
I don't guarantee that this list is complete. In fact, I am almost sure there are more that have been missed. Also, this list intentionally does not include other asteroids with Jesuit-related names, such as schools run by Jesuits.
The text associated with each entry is quoted directly from the Minor Planet Center database or the Dictionary of Minor Planet Names.
2490 Bussolini
Argentine Jesuit and solar physicist Juan Antonio Bussolini (1905–1966) was director of the Observatorio de Fisica Cosmica de San Miguel and a noted supporter of the Felix Aguilar Observatory.
3562 Ignatius
Named in honor of the 500th anniversary of the birth of Ignatius Loyola (1491-1556), founder of the Jesuits
3727 Maxhell
Named in memory of Maximilian Hell (1720-1792), famous for his determination of the solar parallax from his observations of the transit of Venus in 1769. Appointed director of the Imperial Observatory in Vienna in 1755, he prepared and published an important series of astronomical ephemerides.
3821 Sonet
Jean Sonet (1908-1987), a Belgian Jesuit, was a specialist in Romance languages, professor and later rector (1953-1958) of the University of Namur. From 1958 to his death he was Vice-Rector of the Catholic University of Cordoba (Argentina), where the discoverer met him.
4597 Consolmagno .
Through experimental petrology, Guy Consolmagno (b. 1952) studied the origins of eucritic meteorites. As the curator of the Vatican meteorite collection, Guy's more recent efforts have focused on determining the densities and porosities of meteorites and making comparisons with the densities of minor planets
Update: Today Br. Guy Consolmagno SJ is director of the Vatican Observatory and president of the Vatican Observatory Foundation
4705 Secchi
Named in memory of Angelo Secchi (1818-1878), Italian astronomer, director of the observatory of the Collegio Romano in Rome from 1848 to 1878. Famous for his work on stellar spectroscopy, he made the first spectroscopic survey of the heavens, and his classification scheme divided the spectra of the stars into four groups. Secchi also made an extensive study of solar phenomena and was a co-founder of the Società degli Spettroscopisti Italiani, now the Società Astronomica Italiana.
4866 Badillo
Victor L. Badillo (b. 1930) has popularized astronomy in the Philippines for more than three decades, inspiring countless Filipino astronomers. Ordained in 1965, he directed the Jesuit-run Manila Observatory in Quezon City and served as president of the Philippine Astronomical Society from 1972 to 1990.
5005 Kegler
Named for Ignatius Kegler (1680–1746), a German Jesuit, who worked for 29 years as Astronomer Royal in Beijing. The identity of a comet he observed in 1737 with P/Swift-Tuttle, briefly suggested by W. T. Lynn and discussed in considerable detail by B. G. Marsden, was proven by the comet's recovery in 1992.
6438 Suarez
Buenaventura Suárez (1678-1750), a Jesuit and pioneer native astronomer of the Rio de la Plata, established the first observatory of the region in San Cosme y Damian, where he made observations in particular of eclipses of Jupiter's satellites. His Lunario de un Siglo included computations of eclipses and lunar phases.
6540 Stepling
Named in memory of Joseph Stepling (1716-1778), founder and the first director of the astronomical observatory at the Jesuit college in Prague called Klementinum (1751). He was also known for introducing Newtonian physics to Prague.
6892 Lana
Francesco Lana (1631-1687), an Italian Jesuit, professor of physics and mathematics, first explored the concept for a vacuum airship, bringing human flight into the field of science. He also originated the idea and concept of an alphabet for the blind, which was developed later by Louis Braille.
10692 Opeil
Cyril P. Opeil SJ (b. 1960) is a professor at Boston College studying the thermal properties of meteorites to improve understanding of orbital and rotational changes caused by the re-radiation of solar flux.
11266 Macke
Robert J. Macke SJ (b. 1974) is a research scientist and meteorite curator at the Vatican Observatory, whose fundamental contributions include studying the relationship between shock state and porosity in carbonaceous chondrites.
12579 Ceva
The brothers Giovanni (1647-1734) and Tommaso (1648-1737) Ceva were Italian mathematicians interested in geometry and physics. Giovanni was in the service of the Duke of Mantua. Tommaso was professor of mathematics in the Jesuit college at Milan and was also known as a poet.
n.b. Tommaso was a Jesuit, but his brother was not.
14361 Boscovich
Ruggiero Giuseppe Boscovich (1711-1787), Jesuit professor of mathematics and philosophy at Rome and Pavia, was for some years in Paris and later in Milan, where he founded the Brera Astronomical Observatory. He wrote on the determination of orbits of comets, mathematics and optics.
14429 Coyne
George Coyne (b. 1933), S.J., has been an astronomer at the Vatican Observatory since 1969 and its director since 1978. He has helped with the completion of the large Vatican telescope on Mt. Graham, Arizona. His polarimetric studies have centered on cataclysmic variables, among other subjects.
Update: George Coyne stepped down as director in 2006, and passed away in February 2020.
15071 Hallerstein
Ljubljana-born Ferdinand Avguštin Hallerstein (1703-1774), a Jesuit missionary in China, was known for his work in astronomy, mathematics and cartography. President of the Chinese Imperial Bureau of Astronomy, he prepared an accurate catalogue of 3083 stars and discovered and carefully measured comet C/1748 H1.
20103 de Vico
The Jesuit Francesco de Vico (1805-1848), best known as the discoverer of seven comets, including 54P and 122P, was director of the Observatory of Collegio Romano in Rome from 1838 to 1848. De Vico was born in the city of Macerata, and the Osservatorio di Monte D'Aria di Serrapetrona is dedicated to him.
20237 Clavius
Christopher Clavius (1538-1612) was a German mathematician and astronomer. He figured out where to place the leap years in the Gregorian calendar. Pope Gregory XII[I] revised the Julian calendar with the assistance of Clavius.
23443 Kikwaya
Jean Baptiste Kikwaya Eluo (b. 1965) is a native of the Democratic Republic of Congo and Staff Astronomer at the Vatican Observatory. Using optical meteor measurements, he estimates the bulk densities of smaller meteoroids through numerical ablation models.
26355 Grueber
Johannes Grueber (1623-1680) was a Jesuit priest, missionary, mathematician and astronomer at the Chinese imperial court from 1659 to 1661. He returned to Europe from China by the overland route and published the very first travelogue describing Tibet.
31124 Slavicek
Karel Slavíček (1678-1735), Jesuit missionary and scientist was the first Czech sinologist. Together with Ignatius Kegler he went to China in 1716. He worked on astronomy, mathematics and music and prepared maps of Beijing in 1718 and 1728.
114659 Sajnovics
János Sajnovics (1733-1785) was a Hungarian linguist and Jesuit. He is best known for his pioneering work in comparative linguistics, particularly his systematic demonstratation of the relationship between Sami and Hungarian. Sajnovics was a pupil of the astronomer and mathematician Maximilian Hell.
115254 Fényi
Gyula Fényi (1845-1927) was a Hungarian Jesuit and astronomer. A most prolific observer of solar phenomena, his 32-year continuous series of prominence observations with the same instrument is unique. Fényi was the first to demonstrate a correlation between the numbers of solar prominences and sunspots.
119248 Corbally
Christopher J. Corbally S.J. (b. 1946) was ordained in the Society of Jesus and earned a PhD in astronomy. He continues a long career in astronomy where his contributions have included areas of multiple stellar systems, stellar spectral classification, galactic structure, star formation and telescope technology.
122632 Riccioli
Giovanni Riccioli (1598–1671) was one of the first telescopic observers of the Moon. He was author of the Almagestum Novum, that contains a lunar map still used today.
129743 Grimaldi
Francesco Maria Grimaldi (1618–1663) was one of the first telescopic observers of the Moon. He wrote De lumine, the first treatise on the wave nature of light.
227152 Zupi
Giovanni Battista Zupi or Zupus (c.1590–1650) was an Italian astronomer, mathematician, and Jesuit priest. In 1639, he was the first person to discover that the planet Mercury showed orbital phases, like those of the Moon and Venus.
302849 Richardboyle
Richard Boyle (b. 1943) is an astronomer at the Vatican Observatory. His work has specialized in high-precision photometry of stars and stellar clusters, often using Vilnius system filters. His work has application ranging from asteroseismology to the discoveries of asteroids with the Vatican Advanced Technology Telescope.
551878 Stoeger
William R. Stoeger (1943–2014) was an American Jesuit priest at the Vatican Observatory who developed ways to test different mathematical formalisms of cosmology by observation. He co-edited a notable series of academic conference proceedings on science and theology with colleagues at the Center for Theology and the Natural Sciences in Berkeley.
562971 Johannhagen
Johann Georg Hagen (1847–1930) was an Austrian-American astronomer and Jesuit priest. He was Director at the Georgetown University Observatory (1888–1906) and the Vatican Observatory (1906–1930). Hagen devised several ingenious experiments at the Vatican to demonstrate the rotation of the Earth, directly confirming the theories of Copernicus and Galileo.
565184 Janusz
Robert M. Janusz (b. 1964) is a Polish Jesuit priest, philosopher and physicist noted for his study of stars clusters and interstellar matter using data taken in the Vilnius System at the Vatican Advanced Technology Telescope. His philosophical work is noted for its discussion of field theory, computer science, and the mathematical nature of the universe.