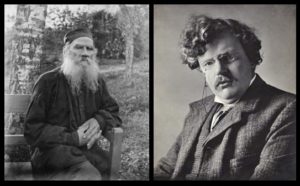 Article
20 pages
Level: high school and above
In this article, published in the journal Scientia et Fides in 2015, Juan-Luis Lorda of the Universidad de Navarra provides a brief overview of Darwinian evolution, using quotes from G. K. Chesterton and Leo Tolstoy as his starting point.  Lorda writes:
La evolución es un tema que interesa a las ciencias, a la filosofía y también a la teología cristiana. Vamos a buscar los puntos de diálogo. Seguiremos este itinerario: 1. Una introducción donde aprovechamos dos citas, de Chesterton y Tolstoi para situar nuestra reflexión. Además, pensaremos en lo que se requiere para hacer verdadera ciencia. 2. Nos plantearemos qué está demostrado científicamente sobre la evolución y qué no. 3. Trataremos sobre las afirmaciones que se inspiran en las ciencias pero son filosofía (o ideología). 4. Añadiremos lo que se puede decir desde la fe cristiana.
Lorda's conclusion:
El universo, desde el Big Bang hasta el ser humano, es como un cuento de hadas. Para los cristianos, manifestación del poder creador de Dios que se sirve de todas las causas que quiere. Para un no creyente, proceso fantástico dominado por fuerzas irracionales con sorprendentes resultados (las matemáticas, las leyes físicas, las estructuras reales, la inteligencia). Es como un milagro (visto a cámara lenta o rápida). Y es más fácil creer en un milagro con Dios que sin Él.
Click here to access this article from Scientia et Fides (click here for a PDF).