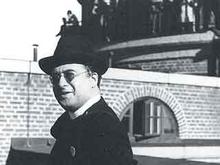 Article
3000 words
Level: high school and above
Part of a body of work produced by the Grupo Ciencia, Razón y Fe at Universidad de Navarra, this article by Mariano Artigas provides an introduction to Fr. Georges Lemaître, "el padre del big-bang". Artigas writes:
Lemaître dejó clara constancia de sus ideas sobre las relaciones entre ciencia y fe. Uno de sus textos resulta especialmente esclarecedor: «El científico cristiano debe dominar y aplicar con sagacidad la técnica especial adecuada a su problema. Tiene los mismos medios que su colega no creyente. También tiene la misma libertad de espíritu, al menos si la idea que se hace de las verdades religiosas está a la altura de su formación científica. Sabe que todo ha sido hecho por Dios, pero sabe también que Dios no sustituye a sus creaturas. La actividad divina omnipresente se encuentra por doquier esencialmente oculta. Nunca se podrá reducir el Ser supremo a una hipótesis científica. La revelación divina no nos ha enseñado lo que éramos capaces de descubrir por nosotros mismos, al menos cuando esas verdades naturales no son indispensables para comprender la verdad sobrenatural. Por tanto, el científico cristiano va hacia adelante libremente, con la seguridad de que su investigación no puede entrar en conflicto con su fe. Incluso quizá tiene una cierta ventaja sobre su colega no creyente; en efecto, ambos se esfuerzan por descifrar la múltiple complejidad de la naturaleza en la que se encuentran sobrepuestas y confundidas las diversas etapas de la larga evolución del mundo, pero el creyente tiene la ventaja de saber que el enigma tiene solución, que la escritura subyacente es al fin y al cabo la obra de un Ser inteligente, y que por tanto el problema que plantea la naturaleza puede ser resuelto y su dificultad está sin duda proporcionada a la capacidad presente y futura de la humanidad. Probablemente esto no le proporcionará nuevos recursos para su investigación, pero contribuirá a fomentar en él ese sano optimismo sin el cual no se puede mantener durante largo tiempo un esfuerzo sostenido. En cierto sentido, el científico prescinde de su fe en su trabajo, no porque esa fe pudiera entorpecer su investigación, sino porque no se relaciona directamente con su actividad científica». Estas palabras, pronunciadas el 10 de septiembre de 1936 en un Congreso celebrado en Malinas, sintetizan nítidamente la compatibilidad entre la ciencia y la fe, en un mutuo respeto que evita indebidas interferencias, y a la vez muestran el estímulo que la fe proporciona al científico cristiano para avanzar en su arduo trabajo.
Click here to access this article from Grupo Ciencia, Razón y Fe/Universidad de Navarra.