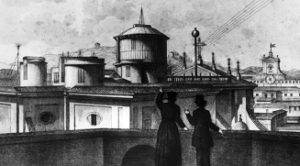 Article (blog post) and video
1000 words (article)/17 minutes (video)
Level: all audiences
This short article, written by Br. Bob Macke, S. J. (an astronomer at the Vatican Observatory) and posted on the V.O.'s Sacred Space Astronomy/The Catholic Astronomer blog, provides an overview of the life and work of Fr. Angelo Secchi.  The video, produced by the V.O., features Macke, Br. Guy Consolmagno (Director of the V.O.), Dr. Ileana Chinnici of Palermo Observatory, and others—and some great footage of the areas in Rome where Secchi worked.
Click here to access this article and video from Sacred Space Astronomy.